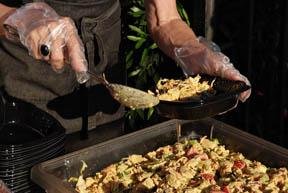 Monday Night Mission, an organization that gives food to the homeless, will stage a demonstration on Saturday to protest an effort by residents on the fringes of West Hollywood's east side to ban outdoor food distribution. The protest will be at intersection of Hollywood Boulevard and Vine Street from 4 to 7 p.m. Saturday.
Complaints about distribution of food to homeless people have largely focused on the Greater West Hollywood Food Coalition (GWHFC), which distributes food at 6:15 p.m. each evening near the intersection of Sycamore Avenue and Romaine, in Los Angeles just east of the West Hollywood boundary. GWHFC was evicted from West Hollywood's Plummer Park in 1989 because of complaints by neighbors that homeless people were gathering for GWHFC's food donations.
Nearby residents, working through organizations such as the Central Hollywood Neighborhood Council (CHWC) and a group that calls itself Melrose Village have lobbied Los Angeles City council members Ted LaBonge and Mitch O'Farrell to introduce legislation to ban "non-commercial meal distribution in the public rights of way."
LaBonge has introduced a measure asking the Los Angeles City Attorney to examine how other cities handle this issue and to suggest regulations to deal with it. His request has drawn support for state Assemblyman Richard Bloom, whose district includes West Hollywood, and from BMB Investments, which is renovating a building at 960 N. La Brea Ave. at Romaine, close to the GWHFC food distribution site. The CHWC, in a letter supporting the motion, is more explicit in calling for a ban on outdoor distribution of free food. "It is both unfair and unlawful to permit the daily assemblage of 100+ homeless people to congregate in our neighborhood bringing the havoc that predictably follows," the CHWC wrote. "We therefore demand that the City Council take immediate action to pass legislation prohibiting these programs," says an Oct. 15 petition signed by many businesses and residents near GWHFC's distribution site.
Bloom also made clear where he stands on the issue.
"GWHFC's commitment to serving the needs of homeless individuals by providing free meals is admirable," his letter says. "However, I strongly believe that the location of service is substandard and should be relocated. Indoor, sanitary facilities that respect human dignity and co-locate supportive services are strongly preferred. As the former Mayor and Councilmember of the City of Santa Monica for over 13 years, I developed considerable experience and am well known for my work on the issue of ending homelessness.
"In fact, Santa Monica has successfully transitioned several food line operations to indoor facilities connected to services. This effort took great skill and determination by all involved. But, it has resulted in lasting, positive change for the community and, most importantly, the homeless individuals who deserve and need our assistance in helping to end their homelessness."
Monday Night Mission founder Mel Tillekeratne, whose organization also distributes food on LA's Skid Row, called LaBonge's motion "really badly put together" and said that a dictate to move the program indoors would "basically break our backs." Even if the group could afford to rent space, he said, it's likely landlords wouldn't want the organization as a tenant. "Nobody wants to have homeless people in their back yard."
As for residents' complaints about trash, urination and noise associated with the food programs, Tillekeratne said the city should explore other solutions. For example, he said, more frequent street cleanings and portable toilets could help resolve issues such as people sleeping in streets and defecating in bushes.
In October, GWHFC co-founder Ted Landreth criticized area residents for taking what he called the "political position" that getting rid of GWHFC is the only way to address the complaints.
"It's so appalling that I just can't get over it," he said. "We have never wanted any kind of a fight with anybody. We're trying to help people."
The text of the LaBonge motion and an application to subscribe to email updates about it is available online.