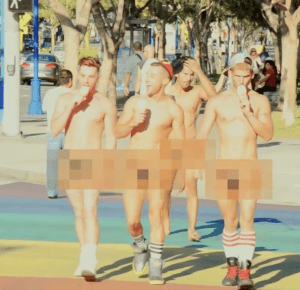 West Hollywood is a city known for characters on the street like the Tranny Biker and WeHo Jesus, and where the first hint of warm weather causes the boys walking in front of the Big Gay Starbucks to shed their shirts. Still, more than a few drivers must have hit their brakes recently when Petit Q Underwear sent four young men out onto Santa Monica Boulevard in Beverly Hills and West Hollywood to model its new underwear brand. Colby Melvin, Brent Corrigan, Brandon Brown and Jose Parra certainly are traffic stoppers.
Petit Q's underwear is likely to appeal to the environmentally conscious because it certainly saves on fabric. This Vimeo video, NSFW for sure, shows just how much fabric is saved. (But just think how much extra suntan lotion those boys will have to buy!)
For those of you who want to reveal less (in terms of skin) but tell more (in terms of sexual preference), there's also the Identity line of underwear marketed by the London's Curb. You can choose from among "active," "bottom" and "versatile," which look so appropriate when worn on London's Underground. Oh those Europeans!