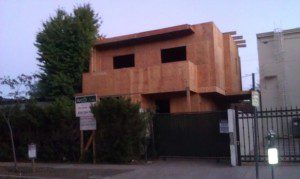 With West Hollywood West residents complaining about the number of new boxy, modern two-story homes going up in their neighborhood, the West Hollywood City Council Monday night unanimously approved an interim measure calling for greater review of the house designs before approval.
Mayor Abbe Land and City Councilmember John D'Amico introduced the measure after 75 residents voiced concern about the new houses during a neighborhood meeting held on Dec. 3. At that meeting, residents said the new houses lack any aesthetic appeal and look like commercial buildings.
The measure requires city planners to consider compatibility with existing houses when approving new houses proposed in the neighborhood. West Hollywood West is made up of approximately 1,000 single family homes and duplex apartments in the area bounded by Doheny Drive and La Cienega Avenue on the west and east and Melrose Avenue and Beverly Boulevard on the north and south. Most of the houses there were built in the 1920s and 1930s.
In considering compatibility planners will decided whether the size is appropriate for the neighborhood. The measure also says that front doors should be visible from the street, windows should be of a similar size to those in neighboring homes and high quality building materials should be used. To insure privacy, roof decks and side balconies are discouraged.
Richard Giesbret, president of the West Hollywood West Residents' Association, praised the action, saying the neighborhood deserves better-designed homes.
"The repetitiousness of the big box is the biggest offense," Giesbret said during Monday's council meeting.
Weho West resident Manny Rodriguez also commended the action. "We just want homes that enhance and improve the neighborhood," he said.
Councilmember John Heilman called on city staffers to contact the people buying these new homes to find out why the homes are attractive to them.
Between 2010 and 2012, the city received 12 applications for new home construction in West Hollywood West. In 2013 alone, the city has received 10 applications.
With the council's action, the city's urban designer, Stephanie Reich, now has the power to request changes to designs.
The city's planning department also is exploring more permanent solutions to the boxy, modern house problem, including possibly creating a historic preservation zone for the neighborhood that would ban such houses or a moratorium on construction of single family homes until new design regulations are finalized. Those options will be presented to the West Hollywood West residents in the spring.