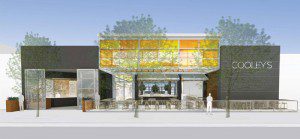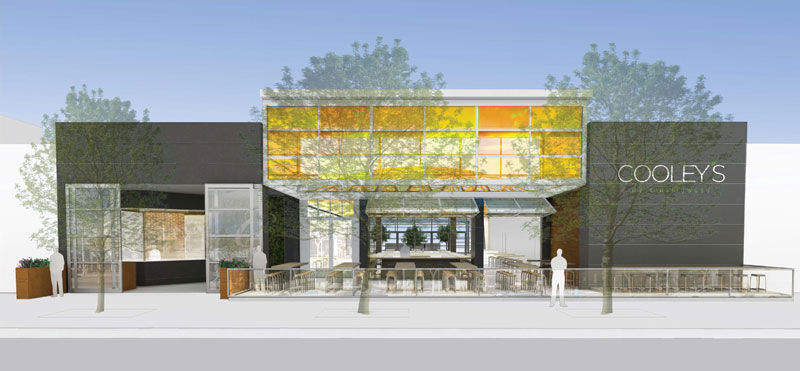 Abbey founder David Cooley's  proposed new restaurant and bar on Santa Monica Boulevard got a green light this afternoon from West Hollywood Assistant Community Development Director John Keho.
Keho added several conditions to his approval of Cooley's, the  8,879-square-foot "gastropub" at 8940 Santa Monica Blvd. near Robertson. Responding to concerns of some  residents that Cooley's proposed 3,000-square-foot back patio overlooking West Hollywood Park would generate noise that would disturb park visitors, he  said a glass noise barrier must be erected at the end of the patio. Keho also insisted that Cooley's submit a plan for landscaping f the back patio area  to ensure there is greenery in the area facing the park.
Keho also denied Cooley's request that its restaurant stay open until 4 a.m., ruling that it must close at 2 a.m. He said it must hire the city's valet service for patrons dropping off cars in front of the restaurant.
Cooley said he accepted the conditions and is anxious to move forward, expecting to open Cooley's in the late summer next year. "I'm so happy; this is exciting," Cooley told WEHOville. "I have a lot of work to do to make sure the neighborhood is happy with my new project."
About 45 people attended the hearing, with 15 speaking about the project. The majority were supportive, although several expressed reservations that Cooley's might ultimately morph into a nightclub, which happened with the Abbey, which originally opened in 1991 as a coffeehouse but has evolved to become one of the best known gay nightclubs in the country.
Alfredo Diaz, co-owner of the Revolver bar at 8851 Santa Monica Blvd, at Larrabee, a block and a half away, said that although Cooley's was asking the city a so-called "conditional use permit" (CUP) to a restaurant, its plans  looked like it was designed to be a nightclub.
"Cooley's oversize restrooms, a bar disproportionate in size to its own kitchen are vibrant red flags to the future business that SBE [the company that now owns the Abbey] intends to operate there,"  Diaz said. "Undoubtedly, Cooley's and SBE will be applying for modifications to whatever CUP that might be granted, requesting changes such as live entertainment, dancing and after hour permits."
Cooley assured Keho that was not the case. "This will be complete opposite of the Abbey," he said. "I cannot compete with myself."
Several other speakers worried that Cooley's might siphon customers from other businesses in the city's gay entertainment district, commonly known as "Boystown." Cooley countered that he would be "adding population to the neighborhood," not trying to steal business for others.
Others praised the project, saying it should help enliven the south side of Santa Monica Boulevard, which has always been underdeveloped compared to the north side of the street.
"I've walked by that space for 30 years, wondering when that side of the street would get going," said resident Larry Block, who is a candidate in the March 2015 City Council election. "I own the store Block Party on the other side of the street, and I thought I had the better location, but this might change the game."