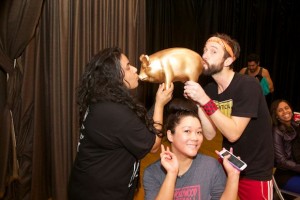 WeHo Dodgeball wrapped up another season this week with a round of finals for its Tuesday and Thursday leagues.
Team Dickelodeon faced Smash Dodgers in the "bottom bowl" — the mini finals match for dodgeball's four lowest-ranked teams throughout the season, which Dickelodeon won.
But the main event was a playoff that featured DILFs versus Throwback Thursdays and Gym Bar versus Weho Yacht Club. DILFs defeated Throwback Thursday and WeHo Yacht Club beat Gym Bar in an overtime match. Then WeHo Yacht Club and the DILFs faced off in a final match that ended with DILFs being declared the Thursday league victors. The contest was especially meaningful for both teams because they got their start only last spring and were both in the "bottom bowl."
The Tuesday night league saw Corey & The Dom Tops defeating reigning champs Dodgeball 4 Dummies and The Wrecking Ballz taking home the "bottom bowl" pig trophy.
WeHo Dodgeball is Southern California's leading adult co-ed dodgeball league. With a rotating membership of over 1,000 players, WeHo Dodgeball provides a mix of fun and competition that welcomes all people from prom queens to drag queens. It also is involved in fundraising for local charities and its members participate in health and fitness events. There are two leagues to choose from — the Tuesday night league and the Thursday night league. Games take place at the West Hollywood Recreation Center, 647 N San Vicente Blvd. south of Santa Monica, at 7, 8 and 9 pm. More information is available online and on WeHo Dodgeball's Facebook page.
Photographer Matt Baume was on the scene Thursday to capture the action, which he reveals in photos on the pages that follow: