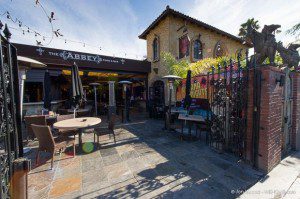 What does West Hollywood's The Abbey have in common with Anchorage's
Moose's Tooth Pub and Pizzeria
and Missoula's
Iron Horse Brew Pub
?
Each has been named by Buzzfeed as one of America's 50 most popular bars. Buzzfeed is a website known for its habitual use of the words "awesome" and "epic" and its constant numerical ranking of bars, cars, stars and what have you in an effort to draw readership from those who don't read. It chose only one bar per state, putting The Abbey, which has a national reputation as a gay nightlife destination, in the same list as Moose's Tooth and Iron Horse, among other lesser known establishments. It attributes its rankings to Foursquare, an app that people use to brag to their friends about where they are.
"Why it's awesome (sic): The legendary WeHo gay bar is massive, with an outdoor patio, multiple bars, fireplaces, and plenty of comfy booths. As the night goes on, the atmosphere gets clubbier, and barely dressed male dancers take the stage."
We WEHOville residents and visitors knew all that. But here's hoping a curious Alaskan or Missourian might just stop by to check it out.