WeHoville is always celebrating something, and there's never a shortage of things to do in our WeHo-centric community on New Year's Eve. But if you haven't yet decided how you will celebrate, consider the possibilities that follow, organized by proclivity.
And if you're headed out to celebrate in West Hollywood, those of you who don't have your own chauffeured limousines might want to take advantage of the City of West Hollywood's Santa Monica Boulevard shuttle service. It will pick you up and drop you off, free of charge, at stops from Fairfax Avenue to Robertson Boulevard between 9 p.m. and 2 a.m. The shuttle stops connect to Metro bus lines 4, 105, 217, 218, 704 and 705.
ABSOLUTELY FABULOUS
If you're one of SoCal's AbFab (and we aren't referring to the fans of that wonderful Brit TV series), consider Bootsy Bellows, David Arquette's celebrity-saturated club at 9229 W. Sunset Blvd. west of Doheny Road. There's a hosted bar offering premium drinks from 9 a.m. until 2 a.m. and a complimentary champagne toast at midnight.
If you merely aspire to being AbFab, consider a general admission ticket ($75), which gets you access to the hosted bar, a listen to the live DJ performance, New Year's Eve party favors, the midnight champagne toast and a chance to get all lookie loo with the fabulous other guests (Katy Perry, Leonard DiCaprio, Sean "Diddy" Combs and Justin Bieber, among others, have been known to hang out at Bootsy Bellows). Of course that's if they're not tucked away in a VIP room or sitting far away in one of the fancy $6,000 seats (no, that's not a typo), where the really AbFab congregate. You can book online. Or give a call to (310) 859-1011 or (970) 925-3700 or email Amanda@Hwoodgroup.com to inquire about a table.
The crowd might not be quite as fabulous, but the atmosphere certainly will be at the Mondrian's Skybar, 8440 Sunset Blvd. at Olive, where $125 lets you drink from 9 a.m. to 1 a.m. and party until 2. The "Belle Epoque" event will feature a guest DJ, burlesque performers and a midnight champagne toast. Of course there are those stunning views from the Skybar, which takes its name from the fact that it doesn't have a roof.
Tickets are available online (there's a "VIP" option for $150). The Skybar encourages its NYE guests to "dress to impress." What that means in LA is anybody's guess. Like Miley Cyrus? Angeline?
You're out of luck if you want to take in the amazing view from the Standard, 8300 Sunset Blvd. near North Sweetzer, whose outdoor poolside party, with live performances by Escort and DJ sets from Magic Touch and Cosmic Kids, is sold out. Also sold out is an indoor party at the Mmhmmm Room, featuring DJs Nosaj Thing, Salva and Groundislave. So act fast if you find another event you like.
SINGLE AND OVER IT?
Thinking of going to bed early on New Year's Eve because your only companion is a dog who's unlikely to get past the nightclub bouncer? Then consider the LA Singles event at the Andaz, 8401 Sunset Blvd. west of North Kings.
If you're lucky, you just might enter the New Year with the man or woman (or transgender) of your dreams. The event is hosted by Match.com in a space whose floor-to-ceiling windows give sweeping views of Los Angeles. But it's what's in the room that you'll want to be eyeballing — over 200 single men and women are expected. There will be an open bar from 9:30 p.m. to 12:30 p.m., hors d'oeuvres and of course DJs and the obligatory champagne toast. Tickets, $150, are available online
DRINK YOUR WAY INTO THE NEW YEAR
Let's face it, for some of us, New Year's Eve is an excuse to booze it up. And where better to do that than two of West Hollywood's classier booze emporiums?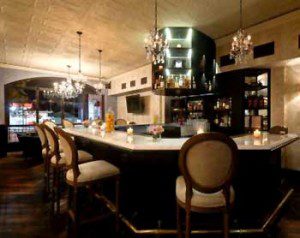 One is Pearl's Liquor Bar at 8909 Sunset Blvd. east of Doheny, where you can watch a ball drop on the rooftop deck. Pearl's is about more than booze, although it offers plenty of that (there's an extensive dinner menu as well). Tickets for the NYE event, which runs from 9 p.m. to 2 p.m. and features live entertainment as well as an open bar and hors d'oeuvres, are $125 and can be purchased online.
WeHo's other "get down" New Year's Eve spot is Rock & Reilly's at 8911 Sunset Blvd. near North Clark. If you have any doubt whether this Irish pub is into celebrating New Year's Eve, consider that it will be celebrating it five times on Dec. 31 — once at midnight in each time zone in which there's a city named Dublin. That means free champagne toasts at 4 p.m. for Dublin, Ireland, 9 p.m. for Dublin, PA, 11 p.m. for Dublin, ID, and midnight for Rock & Reilly's WeHo New Year. And there's no cover.
Others whose proclivities might not steer them to celebrate in WeHo's "Boystown" should also consider The Hudson, 1114 Crescent Heights Blvd. on Santa Monica. The Hudson's fifth annual celebration will feature an open bar all night, passed appetizers, a champagne toast at midnight and DJs. Tickets are $80 in advance and $90 at the door. The party starts at 9 p.m. and ends at 2 a.m. Tickets are available online.
Those looking to rock their way into the New Year should check out the House of Blues, which is featuring the Goo Goo Dolls. Also available is dinner and drink and bar packages and a midnight champagne toast. Tickets, which range from $130 for standing room only to $210 for a pre-show dinner and an open bar, are available online The House of Blues is at 8430 Sunset Blvd. at Olive.
Another option for rocking in the New Year is with Camp Freddy & Friends, the noted cover band, which is performing at the Roxy, 9009 Sunset Blvd. east of North Wetherley. Special guests will include Courtney Love, Corey Taylor and Billy Duffy. Tickets, $100, are available online.
HAVE A GAY OLD TIME
New Year's Eve is the second most popular holiday in the gay world (Halloween ranks No. 1 by a long shot). So it's no surprise that pretty much every gay man in Los Angeles is going to be welcoming 2014 at one place or another. Not all of WeHo's gay bars have announced their New Year's Eve plans as of this writing on Saturday. Information follows about those that have.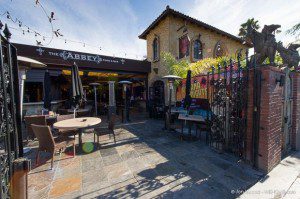 In West Hollywood, the uber New Year's Eve event is at The Abbey on North Robertson just south of Santa Monica Boulevard. (Here Lounge, next door, was closed by the state Alcoholic Beverage Control folks for "lewd conduct" and will be reopening Jan. 2.)
This year's theme is "Mount Olympus," with DJs Paulo Ramirez at 4 p.m. and Casey Alva at 9 p.m. Tickets, $100, include a hosted bar, appetizers and a champagne toast at midnight, and are available online. If you've got a large group of partyboy friends, consider the 20-seat VIP table for $3.000, which comes with six bottles of booze.
If you're looking for more glamour and a place where girls will also have fun, consider Luke Nero and Andres Rigal's Golden New Years Eve. The dress code calls for gold, as do some of bottle service prices ($1,500 for the "Platinum Ultra VIP" serving of four bottles of liquor and three of champagne.) But the event also caters to the masses, with general admission tickets of $15 (now only available at the door.) The party at the Robertson, 665 N. Robertson Blvd. south of Santa Monica, goes from 9 p.m. (when only the staff is likely to be there) until 5 a.m. for you party hardies. Spinning on the dance floor will be Josh Peace and Nelstar, on the patio Phyliss Navidad and in the basement BJ Panda Bear.
The New Year's Eve festivities at Micky's start at 9 p.m. on Dec. 31 and run until 4 a.m. the next day. Ticket's are for sale in advance from your favorite Micky's bartender for only $15 and offer priority entry and party favors
If you're looking for eye candy, Eleven Nightclub at 8811 Santa Monica Blvd. near Larrabee is offering up the "Magnificent 7" male stripper revue. You can feel free to take your female friends, the sort of audience that the Magnificent 7 usually performs for. Keith Jacobson is DJ'ing. Doors open at 8 p.m. and the cover is $10. Email mike@eleven.la for advance tickets or to arrange bottle service.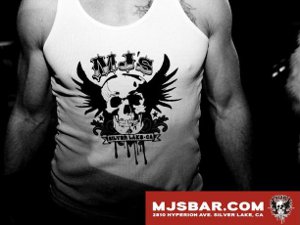 At the hairier, bearier end of greater LA's gay world there also will be New Year's celebrations. Faultline is welcoming the New Year with DJ Shawn Daddy and Shawn Morales serving as "Baby Daddy 2014." The cover is $5 and there will be a midnight video countdown to the New Year, followed by a free champagne toast. The bar will be open from 8 p.m. Dec. 31 to 2 a.m. the next day. And for those of you who think the hair of the dog is the best solution to a serious hangover, Faultline offers a PBR Bust from 2 p.m. on the first day of the New Year. Faultline is at 4216 Melrose Ave. near Vermont in Los Angeles.
The Eagle, 4219 Santa Monica Blvd. near North Hoover in Silver Lake, is celebrating New Year's Eve without a cover and in cooperation with BigMuscleBears.com, just to give you an idea of the crowd you might expect. There's a champagne toast at midnight.
MJs, at 2810 Hyperion Ave. near Rowena in Silver Lake, has guest DJ Jay McCracken spinning the New Year in. Admission is $20, but you have a shot at getting on the VIP guest list for $10 if you text your name and number of guests to (323) 273-5567.
LES LEZ
Some might call the area Boystown, but it will definitely be girls galore at two locations in West Hollywood on New Year's Eve .
Rage, 8911 Santa Monica Blvd. near North San Vicente, is hosting WeHo's Second Annual Ladies Masquerade Ball.
The main room will feature DJs Lisa Pittman, Lezlee and Asha. In the upstairs lounge DJ Lancia will be spinning for Latin music lovers. And there will be a go go revue with Rae Lynn, Nelly Chavez, Mel Bunny and Krystal. Online apparel vendor Trendy Bitch will offer prizes for the best masked couple and best individual mask. The dress code? Black tie and glamorous and sexy.
Advance tickets are available for $20 online. Rage will host the event from 9 p.m. to 2 a.m.
The women who put on "Fantasy Fridays" will be celebrating "Fantasy New Year's Eve" New Year's Eve from 9 p.m. to 2 a.m. at the Robertson, 665 N. Robertson Blvd. south of Santa Monica.
The evening's host is Rose Garcia of "The Real L Word." The music will range from hip hop to Latin to EDM to Top 40 to old school across three rooms with DJs Saratonin, Automaton, Euphoric, Nessa and Less1223. Go go girls Alyssa Rihanna, Riiiott, Missj29, Rosa Martinez and BayleyB will perform.
A $50 ticket, available in advance online, gets your access to a five-hour open bar and a champagne toast. VIP seating a bottle service can be arranged by calling (562) 234-9975.
CELEBRATING SOBER AND SANE
It may come as a surprise to some, but it's possible to have a fantastic New Year's Eve without struggling with a hangover the next day. If you want to experience that, consider #Boom, the New Year's event at the West Hollywood Park Auditorium from 9 p.m. to 2 a.m.
DJ Alexander will spin at this alcohol- and drug-free event. And Miss #Boom 2014 will be crowned the winner of a drag show that evening.
#Boom is sponsored by the City of West Hollywood, the Institute for Public Strategies, the L.A. Gay & Lesbian Center and The Tweakers Project. Reservations can be made online. For additional information, or to RSVP by telephone, call Robert Gamboa at (323) 212-5352.
Free validated parking will be provided, subject to capacity and space limitations, at West Hollywood Library's five-story public parking garage at 625 N. San Vicente Blvd.