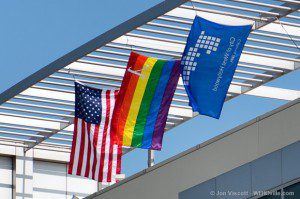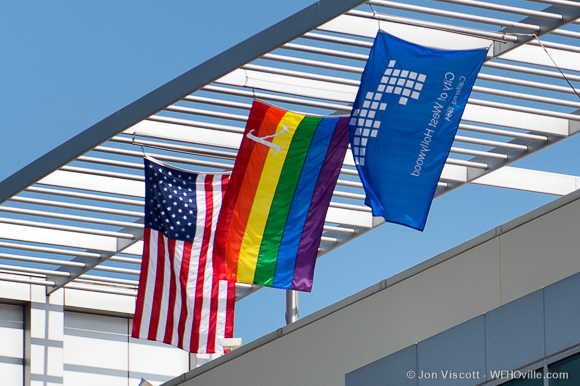 Following a torrent of media attention from LGBT newspapers and websites around the world and local media such as the Los Angeles Times and LA Weekly, public radio station KPCC finally got into the debate about whether the rainbow flag should fly permanently above West Hollywood's City Hall.
On Air Talk, Larry Mantle hosted a discussion with West Hollywood City Councilmember John Duran, who opposes placing the rainbow flag permanently on City Hall, and Tom DeMille, who several times has run unsuccessfully for a City Council seat, who argued for the permanent display. The discussion can be heard online. AirTalk producer Fiona Ng yesterday invited City Council candidate Larry Block, the most vocal proponent of keeping the rainbow flag up, to appear on the program to discuss the issue with Duran. But without explanation Ng withdrew the invitation at the last minute today and replaced Block with DeMille, a less prominent advocate in the flag debate.
KPCC also conducted an online poll of its listeners. As of 9:45 p.m., the poll had garnered 65 votes, with 32 (49.2 percent) saying the rainbow flag should not be permanently flown above West Hollywood City Hall, 23 (35.4 percent) saying that it should be, and ten (15.4 percent) saying they didn't care one way or the other.