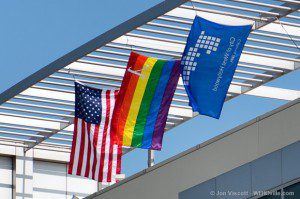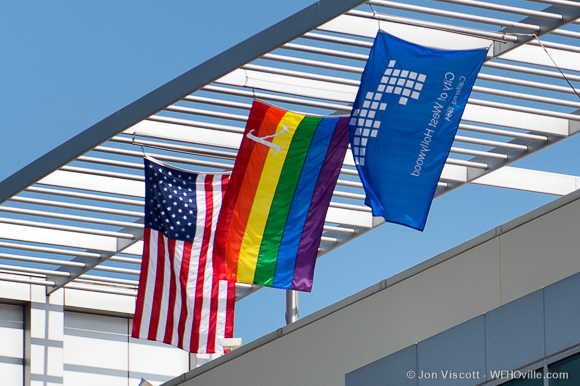 The West Hollywood City Council will be asked Monday to authorize the permanent display of the rainbow flag on the top of City Hall.
The proposal comes in a report prepared by the Department of Public Works and Department of Human Services and Rent Stabilization that was requested by the council at its meeting on Jan. 21.
Currently there are four halyards on City Hall which are used to display the flags of the United States, California and West Hollywood and various unofficial flags on a rotating basis. The staff proposes installing a fifth halyard, allowing permanent display of the rainbow flag and display on a rotating basis of other unofficial flags such as those to acknowledge service members who are prisoners of war or missing in action or other national days of remembrance.
The proposal, if adopted by the council, will bring to a close a heated debate that began on Jan. 8, when the city removed the rainbow flag, a symbol of LGBT inclusion, from the halyard on which it had been displayed since June 2013. The flag was displayed last June after an appeal by Larry Block, owner of The Block Party, a West Hollywood clothing store that caters to gay men, and a candidate in the 2015 City Council election.
In November, the council voted to ask City Manager Paul Arevalo to use his discretion in deciding what unofficial flags should be displayed on City Hall. Councilmember John Duran, one of four gay members of the five-member council, objected to the permanent display of the rainbow flag. "Government buildings should only have official flags," he said. "These are what unite us."  Only Councilmember Jeffrey Prang voted against the proposal that resulted in removal of the rainbow flag.
On Jan. 21, the City Council, faced with a flurry of protests, backtracked, asking for a review of the flag policy that resulted in the proposal that will be considered at Monday's meeting.
"When [the flag] was up, no one contacted me, but when it came down, they certainly did," Councilmember John D'Amico  said at that meeting. "The flag is very political, but we can use that."
"All of us were not intending to slight the LGBT community [by removing the flag]," said Councilmember John Heilman.