[dropcap]T[/dropcap]he temperature in the hotly competitive world of West Hollywood gay nightlife has been turned up several notches with the filing of a lawsuit by the owners of Robertson nightclub against party promoters Andres Rigal and Luke Nero and a number of the area's most popular DJs and party hosts.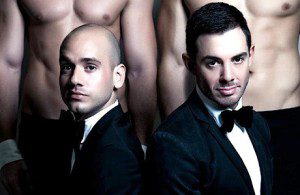 The suit, filed on Jan. 17 by WeHo Nightlife Group Inc., alleges that Rigal and Nero wrongly appropriated the term "Rasputin Russian Love Machine," the name of a very popular club night at Robertson that Rigal and Nero promoted until recently.
Also named as defendants in the lawsuit are Miles Davis Moody, the model and actor who was host of Rigal and Nero's Rasputin parties; Billy Francesca, the performer and party host who also has worked at Rasputin and DJs Josh Peace, Konrad Parker, YCasey Alva and Aaron Elvis.
The lawsuit, which says the damages sought are to be determined during the trial, alleges that in August 2012, while Rigal and Nero were operating as promoters of Rasputin they filed an application to register "Rasputin Russian Love Machine" as a trademark without the knowledge of the WeHo Nightlife Group. That application was approved in April of last year.
WeHo Nightlife says it and Nero and Rigal signed a contract in December 2011 to stage the event, which became very popular from its inception. That contract called for WeHo Nightlife and the promoters to jointly pay for all expenses associated with the event, including DJs, bartenders and promotion. The parties in May or June 2012 agreed orally to a new contract, WeHo Nightlife says, that never was put into writing. Under its terms, Nero and Rigal would be involved only in promoting the event, not managing it. For that each of them would be paid $1,000 per event and a commission of $500 each for door charges and profits from the sale of drinks up to $25,000 a night, $1,000 each for sales of $30,000 or more a night and $1,500 each for sales of more than $35,000 a night.
The lawsuit also alleges that Nero and Rigal "began a campaign to smear the name of WEHO (WEho Nightlife Group) … make claims to ownership of the generic name Rasputin that continues to be the promoted name of the nightclub event at the Robertson … and instigate a continued threat campaign to all affiliated independent contractor disc jockeys that were employed by WEHO since June 2012 for this event to cease and desist their performance of work…"
WeHo Nightlife Group also alleges that Nero and Rigal and unnamed parties "began a social media campaign (to) make false accusations, alleging ownership of Rasputin and threatening all individual that are associated with WEHO of litigation should they continue their business relationship with WEHO in order to derail WEHO's business operations."
As evidence they cite social media posts on Facebook and Twitter such as "Go get them Luke Nero Make those shady thieves PAY BIG," and "I've seen a lot of tacky sh-t go down in West Hollywood over the years but this imitations Rasputin … that's trying to be perpetuated is the icing on the cake." WeHo Nightlife Group has added the unidentified people who posted those allegations to its lawsuit as (John) Does 1 through 100 and says it will add them to the suit when and if they are identified.
Nero and Rigal announced the closing of Rasputin on Jan. 12 in a Facebook post. Two days later, WeHo Nightlife Group announced that the event was continuing, which prompted a response from Nero and Rigal noting that they owned the Rasputin trademark and were looking for another venue.
An also heated, but not legally contentious, battle continues over the opening of Cooley's, the "gastropub" that David Cooley, founder of the Abbey, has planned for the south side of Santa Monica Boulevard near Robertson. Alfredo Diaz, a co-owner of Revolver, a nearby bar, has asked the West Hollywood Planning Commission to reconsider approval for the project granted by the West Hollywood Assistant Community Development Director John Keho. His appeal will be heard by the Planning Commission at its regular meeting on Thursday.