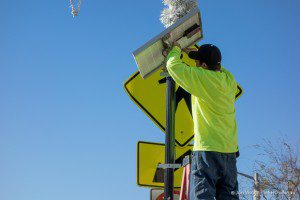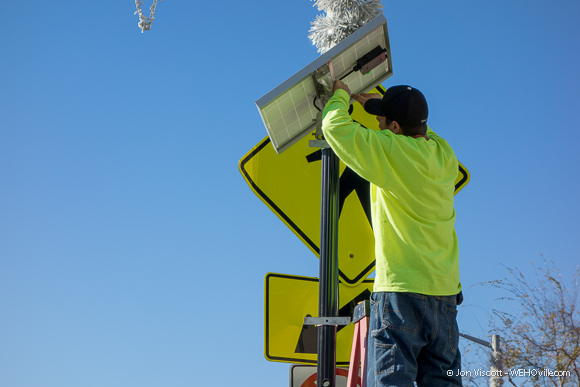 West Hollywood will installing flashing lights at three more crosswalks in the middle of blocks.
Those locations are Santa Monica Boulevard at Palm and Hancock avenues and San Vicente Boulevard in front of the West Hollywood Library. These new flashing lights will join the ones already installed at three other locations: Santa Monica Boulevard at Westmount Drive and at Orange Grove Avenue and Crescent Heights Boulevard at Norton Avenue.
The installation was authorized by the City Council on Monday. Councilmember John D'Amico praised the addition of the flashing beacons but said the city needed to do more to improve visibility at the three new intersections such as improving overhead lighting and removing signs or plantings blocking a driver's view of the pedestrians.
Don't look for the flashing beacons to be installed immediately. City Engineer Sharon Perlstein said it could take as long as six months before they are installed.
"We'll have to study the lighting at the intersections before it goes out to bid," Perlstein told Wehoville. "That could take a month or two."
While some people have called for flashing lights to be installed in the pavement (as does the city of Glendale), Councilmember John Duran said that would not be practical because the pavement beacons would require constant maintenance and replacement of bulbs.
As for installing red lights to stop traffic when pedestrians cross, Duran said that would also be impractical along Santa Monica Boulevard between La Cienega and San Vicente boulevards.
"It would create incredible gridlock to stop traffic at every one of the crosswalks on that stretch of Santa Monica Boulevard," Duran said. "That gridlock would spill over onto the other streets."
A report to the council by city staffers notes that the Los Angeles County Sheriff's Department has identified four accidents involving pedestrians and one involving a bicyclist at the Hancock Avenue crossing and three pedestrian accidents at the Palm crossing.