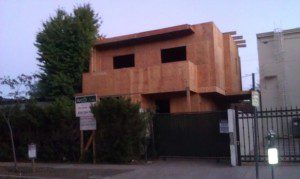 West Hollywood West residents want the city to declare a moratorium on new houses until it can create and implement design guidelines to prevent construction of large houses whose design they believe doesn't complement existing houses in the neighborhood.
That was the consensus of a meeting tonight of about 100 residents of the neighborhood, which largely consists of houses built in the 1920s and 1930s. The meeting at times became heated as residents shouted across the room at each other and at Community Development Director Stephanie DeWolfe, who was running the meeting.
"This has been stewing for a long time, so there's a lot of anger about these new homes destroying the charm of our neighborhood," Richard Geisbart, president Of the West Hollywood West Residents Association, explained to WEHOville.
The city has approved 22 new construction applications for single-family homes since 2010, with eight of those applications coming in 2012 and 12 coming in 2013. Stephanie Reich, the city's urban designer, said the 10 other applications are currently under review.
Consisting of approximately 1,000 single family homes and duplexes in the area bounded by Melrose Avenue on the north, Beverly Boulevard on the south, La Cienega Boulevard on the east and Doheny Drive on the west, West Hollywood West is know for its eclectic style and small town neighborhood feel.
Speakers asked that the city create a "neighborhood overlay zone," which would apply specific guidelines for West Hollywood West. Those guidelines might require greater setbacks from the property line, a smaller house size relative to the size of the lot and a ban on construction of balconies or roof decks. However, such an overlay zone would likely take 12 to 15 months to implement because numerous public hearings would have to be held.
That's why the residents also want a 12-month moratorium on construction of new two-story houses.
"If we don't get a moratorium, we'll end up with 40 of these boxy houses [before an overlay zone is implemented]," resident Joel Becker said.
DeWolfe warned that each solution could create other problems down the road and advised residents to consider everything carefully.
"It's difficult to write a policy that doesn't have unintended consequences," she said.
Residents at the meeting rejected the idea of changing the city's zoning code to address their concerns because such a change would affect single family homes throughout the city. Residents also rejected a proposal to have the Planning Commission's Design Review subcommittee expand its scope to start reviewing single family homes in addition to commercial and multiple-unit residential buildings.
DeWolfe advised the residents to start an online petition about the moratorium and overlay zone to help convince the City Council that a majority of West Hollywood West residents want them.
In December, in response to these complaints about large, boxy houses, the City Council approved a measure that gave the city's planning staff permission to consider context and compatibility with other houses in the neighborhood when approving new single family homes.