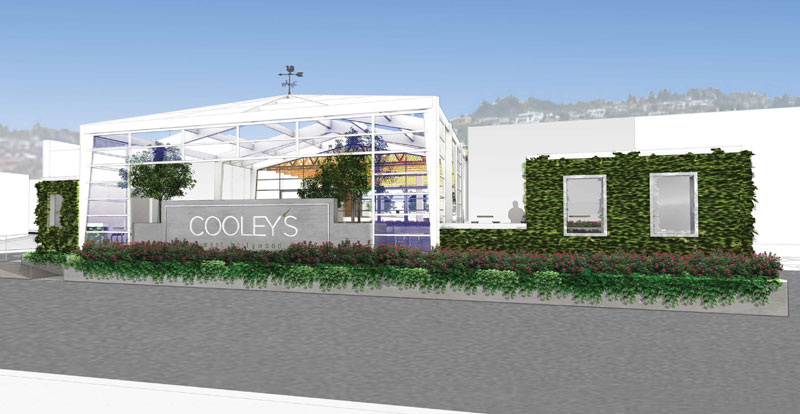 The back patio of the new gastropub planned at 8934-8940 Santa Monica Blvd. in the Boystown section of West Hollywood by Abbey owner David Cooley must be 50 percent smaller according to ruling made by the city's Planning Commission Thursday night.
After a meeting lasting more than three and a half hours, the commission voted 6-1 to require that the depth of the proposed 2,900 square foot patio overlooking West Hollywood Park be reduced 50 percent.
Commissioner Marc Yeber said he was concerned about the effect that a restaurant serving alcohol that overlooked the park would have on park goers, especially children. Similar concerns were expressed by nearly half of the 31 people who commented to the commission about Cooleys. Yeber was especially concerned how the restaurant, the first commercial establishment to open onto the park, might affect the upcoming $80 million Phase II of the park's renovations.
"I'm not comfortable with the open patio until we understand its relationship to the park," he said. Yeber also demanded the patio be fully enclosed to shield park users from its noise.
The rest of the commission opted for a retractable roof instead. Yeber, unhappy with the retractable roof, then voted against the item.
Alfredo Diaz, owner of the Revolver video bar at 8851 Santa Monica Blvd. at Larrabee Street, brought the matter before the commission, appealing a December ruling approving Cooley's restaurant made by the Community Development Director. However the commission did not grant Diaz' request to rescind the permit that would allow construction of Cooleys.
Diaz is not yet sure whether he will appeal the Planning Commission's ruling to the City Council.
"We needed to have a vigorous open public debate about this," he said. "This shouldn't be a scenario where the architects design our $80 million park around a developer. It should be the other way around."
Cooley also is not sure whether he will appeal the ruling.
"They're going to figure our their options and figure out what happens next," Brian Rossman, spokesperson for Cooley told WEHOville. "We're genuinely pleased that the commissioners supported their project."