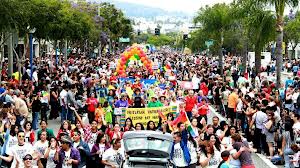 After months of discussion and negotiation about making improvements to the annual LA Gay Pride parade and festival, the West Hollywood City Council tonight reached an impasse on what to do.
The council rejected a proposal to allocate $150,000 to expand the city's own gay Pride festivities, with some members objecting that it wasn't clear what benefit that would bring to the city.
The proposal was made by the city's Department of Human Services and Rent Stabilization in response to a request by the council in January for specific ideas for expanding the annual Pride event. That request came after Councilmembers John D'Amico and John Duran, named by the council as a subcommittee to deal with the issue, spent months negotiating with Christopher Street West (CSW) the non-profit organization that stages the annual LA Pride Parade and Festival in June, to find ways to improve the event. The Pride parade and festival have come under heavy criticism for its poor quality.
Unable to reach agreement with CSW on proposals such as rebranding LA Pride as West Hollywood Pride, getting the city more involved in recruiting celebrities for the Pride event and improving Pride programming, D'Amico proposed the city create more of its own Pride programming. The Department of Human Services and Rent Stabilization also suggested rebranding the city's existing "One City One Pride" cultural events as "West Hollywood Pride." The proposed $150,000 appropriation would have increased the total costs to the city of the annual Pride parade and festival to $1,038,000.
Councilmembers Jeffrey Prang and John Heilman said that if the city were to appropriate money for additional programming there should be an obvious benefit, such as increasing hotel occupancy. Heilman proposed that the city staff come back to the Council with proposals for developing high quality events and contracting with an event promoter to stage them and that the Duran / D'Amico subcommittee work with city staffers and Visit West Hollywood, the city's tourism bureau, to develop an event to be staged on Thursday night before Pride weekend.
But his proposal, which won the support of Mayor Abbe Land, failed with Duran abstaining and Prang and D'Amico voting against it.
Duran said the city had an obligation to spend additional money on improving the Pride events, all of which are staged in West Hollywood, if it wanted to counter complaints that Pride is " tired and ragged." He said such improvements were necessary if LA Pride is to attract visitors from across the country as does the annual New York City Pride event. Duran declined to continue serving on the subcommittee, saying Heilman's proposal was "a motion to do nothing."
Heilman also objected to a staff proposal to extend the closure of Santa Monica Boulevard between Robertson and San Vicente boulevards, where the Pride parade takes place, to create a "Pride Community Area" where local non-profits could present themselves to parade attendees.
Without sufficient votes for passage, Heilman's motion was tabled and, in effect, so was the city staff proposal.