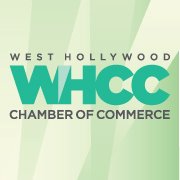 The West Hollywood Chamber of Commerce (WHCC) will hold its annual meeting on Tuesday to install new members elected to its board of directors in November.
Robert Kovacik, an NBC television anchor and reporter, will serve as master of ceremonies. The chamber will honor Brad Burlingame, president and CEO of Visit West Hollywood, the city's visitors and tourism bureau, with its Ray Reynolds Award.
Elected to three-year terms were Hany Haddad, US Bank; Lin Schatz, Andaz West Hollywood; Ruth Tittle, Capitol Drugs/Power Zone; Owen Ward, Off World Entertainment; Deborah Kallick, Cedars-Sinai Medical Center, and Carol Massie, McDonalds.
Elected to two-year terms were Mark Olson, Southern California Edison; Layne Lawson, Clear Channel Outdoor, and Pat Rogers, Here Lounge. Members appointed to the board for one-year terms by its chair were Ralph Barnes, Beverly Center; Don Zuidema, LASC; Maxine Tatlonghari, Vanity Girl Hollywood, and Lee Maen, IDG.
Other board members are Mylena Christina, LIFT west hollywood; Keith Kaplan, the Kaplan Group; Misti Cooper, co-founder and former owner of Yogurt Stop; Christopher Bonbright, Avison Young; Karen Kuo, Robert Kuo Limited; Mark E. Lehman, Law Offices of Mark E. Lehman; Michael Jay, Cardiff Giant; Rod Gruendyke, Sunset Marquis Hotel & Villas, and Nadia Sutton, here! TV. Non-voting affiliate members are Todd Steadman, Sunset Strip Business Association; Bradley Burlingame, Visit West Hollywood, and Ryan Farber, West Hollywood Design District.
The event will be held at 8 a.m. at the House of Blues, 8430 Sunset Blvd. at Olive. Tickets are $40 for WHCC members and $60 for non-members.
The Chamber is a non-profit organization that provides resources for local businesses and lobbies for their interests.