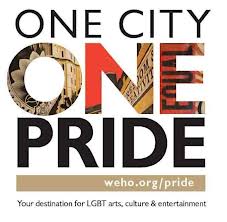 The City of West Hollywood is looking for a few artists to love, honor, and cherish. The city's Arts and Cultural Affairs Commission is calling for submissions for its One City One Pride arts festival poster design competition.
The theme of this year's One City One Pride is "I do" — an affirmation, a promise, a commitment and a celebration of love. Artists are encouraged to create a poster design that celebrates this theme in the spirit of marriage equality. The selected winner will receive an award of $300 and the opportunity to display artwork to thousands of people as part of this year's One City One Pride promotional campaign.
Each year West Hollywood produces the One City One Pride arts festival, a program of lesbian, gay, bisexual and transgender (LGBT) arts, educational and cultural events for June Pride month. This year's One City One Pride arts festival will kick-off on Harvey Milk Day (May 22) and it will continue through the end of Pride Month on June 30. There will be 40 days of pride celebration through arts, education and cultural events featuring dance, film, spoken word, visual arts and more.
The city will accept poster design submissions until April 3 at 5 p.m. To be eligible to win, designs must:
Be formatted as tabloid portrait layout, 11"x17" vertical orientation with a half-inch bleed (12"x18" with a ½-inch trim);
 Allow for a 4"x11" area for a list of One City One Pride events to be added;
 Integrate the "I do" theme of One City One Pride 2014; and
Incorporate the "One City One Pride" name, dates of festival, logo, and website URL (www.weho.org/pride) into the layout of the poster or leave ample space for inclusion.
All design files must be submitted electronically as PSD or PDF files. Complete guidelines and a link to a submission form are available online.
For more information regarding this year's One City One Pride arts festival, or for other details about the poster design competition, visit www.weho.org/pride or contact Mike Che at (323) 848-6377.