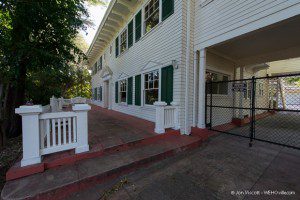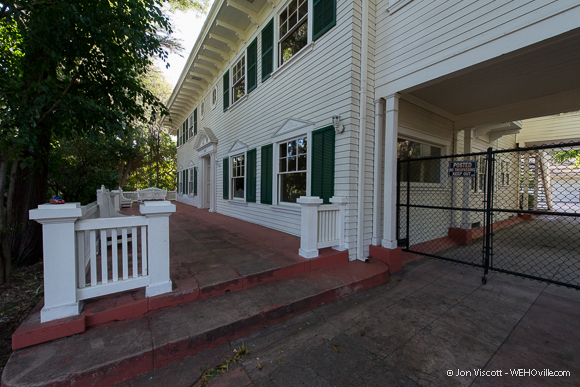 Having mothballed the mansion and patched its roof, West Hollywood is proposing a "vision concepts" committee to figure out what to do with the property at 1343 N. Laurel Ave. popularly known as "Tara,"
Meanwhile, the City Council will be asked tonight to authorize funding for a study of how to move Great Hall / Long Hall out of the way of the city's proposed redevelopment of Plummer Park.
Plans for redeveloping both properties have sparked battles between preservation groups and City Hall, with the city having lost the battle over Tara while the future of Great Hall / Long Hall is not yet clear.
The city had proposed to build a U-shaped building around the 1923 Colonial Revival mansion on Laurel Avenue, using both buildings to create 28 apartments for senior citizens. It has been dubbed "Tara" for its resemblance to the mansion of the same name in the movie "Gone With the Wind." That proposal, which also would have involved removing 66 trees from the two-third-acre lot, prompted local preservations to mount a "Save Tara" campaign that resulted in several court battles with the city. The Save Tara group won, with the city losing an appeal before the state Supreme Court and a $4.2 million federal grant for the project.
The vision concept committee would consist of City Councilmembers John D'Amico and Jeffrey Prang, members of various city commissions that are focused on issues relevant to the use of the property and two members of the general public. D'Amico and Prang voted with John Duran in 2011 to scrap the city's proposed redevelopment and use the property as a park and community center.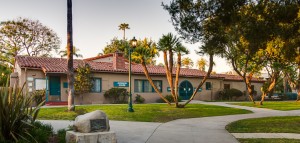 The city's plan has been to tear down Great Hall / Long Hall, listed on the National Register of Historic Places, as part of a $41 million renovation that would create more open space in Plummer Park. That was put on hold in 2012 when the city lost $14 million in redevelopment money it had expected from the state. A group called "Protect Plummer Park" organized to oppose the Great Hall / Long Hall demolition and other proposed changes to the park. Nevertheless, the Council voted three to two last December to proceed with demolishing the building, a WPA-era structure built in the Spanish Colonial Revival style. Only Councilmembers John D'Amico and Jeffrey Prang opposed the demolition.
Councilmember John Duran proposed in January that the city consider moving the building elsewhere. The Council will be asked tonight to approve spending $30,000 to hire Historic Resources Group, a consulting firm, to determine the cost of a relocation elsewhere in West Hollywood or nearby. Alternatives HRG would be asked to consider include moving the entire complex, moving only the Great Hall building or moving only the Long Hall building.
The Council meeting is at 6 p.m. at the City Council Chambers at 625 N. San Vicente Blvd., south of Santa Monica.