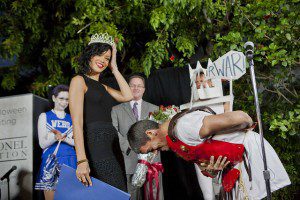 You remember Rihanna, crowned Queen of West Hollywood by giddy members of the City Council on Halloween night in 2012. The Barbadian recording artist, actress and fashion designer last Halloween ceded that crown to Queen Latifah (making her "Queen Queen Latifah?"). But she never really left West Hollywood behind.
What would our little burg be without the breathless stories on TMZ.com about her nights out with Drake and fights with Chris Brown and awkward encounters with his new girlfriend, model Karrueche Tran, all too many of which have taken place in WeHo?
Rihanna not only hasn't left West Hollywood behind, she's apparently been giving us her behind. At least that's what's being reported on websites as diverse as the Malaysian Chronicle and TMZ.com.
Both sites report Rihanna participating in a fashion shoot on a balcony of an apartment in the hills above West Hollywood. "The sexy singer cranked up the heat by showing off her beautiful – and totally bare – booty in all its glory during a steamy photo shoot on a balcony in West Hollywood on Wednesday," the Chronicle reported, posting plenty of pictures as proof. The photos definitely showed Rihanna leaving her behind to West Hollywood. But given the lack of clothing, it is hard to understand what apparel company she was posing for.