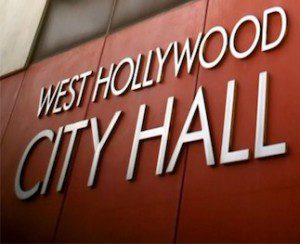 The City of West Hollywood's Public Information Office issued a statement this evening about the shooting death of John Winkler on Monday at an apartment building on 939 Palm Ave. Winkler was shot by a Los Angeles Sheriff's Department deputy who was responding to a report that a resident of the building was attacking another with a knife. Winkler was a victim of the attacker and not the assailant.
"The City of West Hollywood is deeply saddened by this tragic shooting and extends its sympathies to friends and family of Mr. Winkler," the statement said. "We are a close-knit and compassionate community and many of us are shocked and may be traumatized by this news. As we grieve together, the city is urging people who need counseling to seek support through the Maple Counseling Center at (310) 271-9999.  Maple Counseling, which is located near Wilshire and Doheny boulevards in Beverly Hills, offers low-cost, high-quality mental health counseling services to individuals, couples, families and groups. Clinical staff is available to provide counseling sessions to West Hollywood community members who have experienced trauma following this week's shooting and stabbing incidents. All services are provided on a sliding-scale basis, and no one will be turned away for lack of ability to pay.
"The West Hollywood City Council and City Manager are seeking answers and are working diligently to support efforts to examine the many details of this incident. The City of West Hollywood is actively working with the Los Angeles County Sheriff's Department as part of a multi-agency review of this event. The following agencies will participate in the investigation: the Los Angeles County Office of the Inspector General; the County of Los Angeles Office of Independent Review; the Los Angeles County Sheriff's Department's Internal Affairs Division; the Los Angeles County Sheriff's Department's Homicide Bureau, and the Los Angeles County District Attorney's Office."
The death of Winkler, 30, who recently moved to West Hollywood from Seattle, has provoked expressions of outrage from some city residents who are saying that the deputy sheriff who shot Winkler acted precipitously. The deputy has not been identified. Winkler and another victim, who was shot in the leg, were shot as they were fleeing an apartment occupied by Andrew McDonald, 27, who has been arrested on charges of murder, attempted murder and torture for attacking Winkler and two other men with a knife.
That Winkler's death occurred ten days after the stabbing death in the same building of Dr. Kurtland Ma, 34, who also recently moved to WeHo, has further alarmed residents of the building and West Hollywood. Ma's boyfriend, Andre Davids, has been charged in his murder.
The statement said the city "will refrain from providing additional comments at this time. The city will await conclusive information at the end of the multi-agency review."