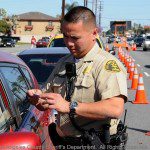 Deputies with the Los Angeles County Sheriff's Department arrested three drivers at a traffic checkpoint in West Hollywood on Friday — two for driving while under the influence of marijuana and one for driving without a license.
The checkpoint was staged at the intersection of Santa Monica Boulevard and Robertson from 7 p.m. until 3 a.m. the next day. The Sheriff's Department reported that 4,627 vehicles passed through the checkpoint during that period, with 2,612 of them checked by deputies.
The Sheriff's Department stages these checkpoints throughout Los Angeles County, largely because there's evidence that they reduce the incidence of driving under the influence. The communities where the checkpoints will take place are announced in advance.