West Hollywood City Councilmember John D'Amico will forgo the elaborate City Council Chambers on Monday and instead be installed as the city's next mayor in Plummer Park.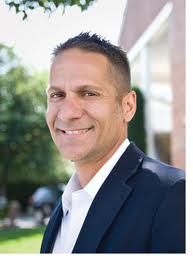 D'Amico succeeds Abbe Land, who has held the position for a year and has served as mayor five times.  The City Council rotates the largely ceremonial position each year.  As mayor, D'Amico will lead City Council meetings, sign official documents for the city and serve as the public face of West Hollywood. John Heilman, who is in his 30th year as a council member, will be sworn in as mayor pro tempore. In that position he will fill in if D'Amico is unable to attend a Council meeting.
The installation will take place at 6 p.m. on the Vista Lawn at Plummer. A special reception will take place immediately following the Installation and the regularly scheduled City Council meeting, which will be held at the park. It will feature works by Steven Reigns and Yelena Zhelezov. There will also be a gamelan music performance.
There is some irony in the location of D'Amico's installation. Heilman has been a vociferous proponent of the city's proposed redevelopment of Plummer Park, which would require demolishing Great Hall / Long Hall, the WPA-era building in its center. D'Amico has pushed for further study. The Council has reached sort of a compromise with a vote to study the possibility of moving the building elsewhere.
The event is free and open to the public. Limited parking will be available at Plummer Park; attendees are encouraged to carpool and to use Metro as a transit option. A Metro Trip Planner is available at www.metro.net
Past mayors of West Hollywood have been:
Valerie Terrigno (1985-1986)
Abbe Land (1989-1990)
John Heilman (1990-1991)
Paul Koretz (1991-1992)
Babette Lang (1992-1993)
Sal Guarriello (1993-1994)
Abbe Land (1994-1995)
John Heilman (1995-1996)
Paul Koretz (1996-1997)
Sal Guarriello (1997-1998)
Steve Martin (1998-1999)
John Heilman (1999-2000)
Jeff Prang (2000-2001)
John Heilman (2001-2002)
Sal Guarriello (2002-2003)
Jeff Prang (2003-2004)
John Duran (2004-2005)
Abbe Land (2005-2006)
John Heilman (2006-2007)
John Duran (2007-2008)
Jeff Prang (2008-2009)
Abbe Land (2009-2010)
John Heilman (2010-2011)
John Duran (2011-2012)
Jeff Prang (2012-2013)
Abbe Land (2013-2014)