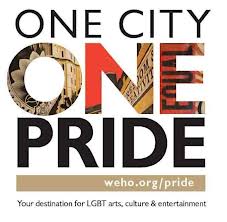 The West Hollywood City Council will be asked to approve Monday a long roster of events as part of the city's One City One Pride celebration.
The events range from a series of vivid video and digital projections onto a cluster of balloons over West Hollywood Park to an evening of musical theatre to an art show at a gallery on Sunset Boulevard. City staff members propose using a "One Night" art and performance event on May 21 as the signature event of One City One Pride. That event will be produced with the ONE National Gay and Lesbian Archives. The overall theme for the events will be "I Do," a celebration of the U.S. Supreme Court decision that legalized same-sex marriage in California. "One City One Pride" is scheduled around LA Pride, an annual parade and festival that will take place in West Hollywood this year from June 6 through 8. The event is produced by Christopher Street West, a non-profit organization.
The events proposed, including their themes and dates, are as follows:
Visual Art/LGBTQ History
Love Is Love: 5 Year Road To Marriage exhibition
Reception May 22, Runs from May – August 2014
Main Floor, West Hollywood Library
Series of photographs taken between the passage and the repeal of Prop 8, showing everyday people in West Hollywood and the Greater LA area fighting for LGBT marriage equality.
Literature/ LGBTQ History
Special Lambda Lit Book Club Author Reading featuring Dennis Altman
May 27, 7 p.m.
West Hollywood Library Community Meeting Room
This special meeting of the Lambda Literary Book Club will feature Dennis Altman, academic and pioneering gay rights activist.
LGBTQ History/Education
Human Rights Speaker Series
May 28
Council Chambers
Held in conjunction with the "Orientations and Identities: Sexuality and Human Rights on the Global Stage" Conference (May 27-30) which will be held in West Hollywood and at USC, and is co-sponsored by University of Southern California Program on Global Health and Human Rights; La Trobe University; the Williams Institute at UCLA; the Health and Human Rights Law Project at UCLA; the Burkle Center for International Relations at UCLA and Occidental College.
Theatre
No Day But Today
May 29, 7 p.m.
Renberg Theatre, 1125 N McCadden PI.
Stagebridge LA presents No Day But Today, an evening of contemporary musical theatre featuring the seniors from the Los Angeles Gay and Lesbian Center, directed by Mark Salyer and Kay Cole with musical direction by James Lent.

Theatre
Lovely Bouquet of Flowers
May 30
The purpose of Lovely Bouquet of Flowers is to empower all non-traditional voices of gender in regard to sexual preference, race and socioeconomic status, transforming lives through the use of monologue, dialogue and performance art. The play is based on real interviews that were fictionalized for the purpose of stage presentation, and address issues involving homelessness, sex work, social work, religion, healthcare, ageism, and pride in transgender communities.
Visual Art
LGBT Dynasty LA Art Show
Gallerie Sparta, 8641 Sunset Blvd.
May 31- June 30
Gallerie Sparta West Hollywood is launching a massive artwork campaign for a Los Angeles LGBT Artists Group Show in June 2014 at the gallery on Sunset Plaza.
Visual Art/Music/Film/Dance/LGBTQ History
ONE Night: EZTV, LA ACM SIGGRAPH, and Digital Art in West Hollywood
May 31, 8 – 11 p.m.
WeHo Park
Held in conjunction with the City Arts Grant-funded exhibition "EZTV: Video Transfer" at the ONE Archives Gallery and Museum, ONE Night explores the contributions of two seminal artist communities based in Southern California: LA
ACM SIGGRAPH and EZTV, and calls attention to their under-recognized contributions to early digital art. ONE Night will feature new and historical projections by a number of artists including Rebecca Allen, Joan Collins, Dave Curlender, Ed Emshwiller, Ron Hays, Kate Johnson, Shelley Lake, Michael J. Masucci, and Vibeke Sorensen. In addition, ONE Night will premiere a live performance by Donna Sternberg and Dancers: Fly-By, which will feature dancers in duets with flying drones, each equipped with wireless cameras transmitting live video footage. The performance features music by David Raiklen, and a virtual "avatar dancer" transmitting live from The Hague by Vanessa Blaylock. The evening will conclude with a performance by musician Kate Crash.
Music
Songs of Freedom
May 31
Hollywood Master Chorale
City Council Chambers
As a West Hollywood Resident Company, The Hollywood Master Chorale joins West Hollywood in celebrating the hard won fights for freedom through a variety of musical selections.

Film
Outfest West Hollywood Screening Series
June 4, 7:30 p.m.
City Council Chambers
Presented as part of the City Arts Grant-funded monthly Outfest West Hollywood Screening series. (This event may be incorporated into a larger event with Christopher Street West as a partner.)
Visual Art
Trans PRIDE exhibit
June 5- July 12
Reception, June 5, 7- 9 p.m.
LA Gay and Lesbian Center Advocate and Gochis Galleries
An art exhibit featuring transgender artists and subjects in celebration of TransPride.
Visual Art
Out There – I DO
June 6 –June 13
Gallery 825
The seventh annual exhibition at Gallery 825, "Out There –I DO" is a juried art exhibition celebrating marriage equality and the special role West Hollywood played in this struggle. All artwork must be created by local artists and be available for this celebration of marriage equality.

Music/Multidisciplinary
Dyke March
June 6, evening
WeHo Park
Christopher Street West presents an entire evening celebrating female pride and entertainment.
Theatre
The Importance of Being Earnest: An All Male Performance
5 performances: June 7, 8:30 p.m.; June 14, 3:30 p.m.; June 15, 5:30 p.m.; June 19, 8:30 p.m.; June 22, 11 a.m.
Actors Company, 916 N. Formosa Ave.
The Importance of Being Earnest: An All Male Performance is a full production of Oscar Wilde's The Importance of Being Earnest. Over the course of this hysterical, poignant examination of if we are who we say we are, three couples fight for the right to tie the knot.
Multidisciplinary
LA Pride Festival and Parade
June 7 and 8
LA Pride/Christopher Street West
Theatre
ALAP Lesbian and Gay Play Reading Festival
June 11, 7:30 – 9 p.m.
Plummer Park, Rooms 1 and 2
Rehearsed readings of new lesbian and gay plays written expressly for the Festival around the theme "I Do" by the Alliance of Los Angeles Playwrights.
Performance Art
Rumor Has It – Part II: Not the Marrying Kind
June 13, 7:30 p.m.
City Council Chambers
Now that is it legal, Miss Barbra Q wants to get married. But before she can even think of getting married, she has to ask herself if she isthe marrying kind. Follow Miss B as she deals with some self realizations and epiphanies through anecdotes, poetry and storytelling in a multi media platform. Now a little older – and a touch wiser, we are taken on the evolving journey through the eyes of a diva in her own mind from the gender non-conformist who is also Black, femme, outspoken, ironic and insightful.
Music
Classics with a Twist
June 14, 2 p.m.
Plummer Park Fiesta Hall
A West Hollywood Resident Company, LA Doctor's Symphony Orchestra presents this concert of classical music works by gay composers.
Music
All You Need Is Love
June 14, 2 and 5 p.m.
City Council Chambers
The concert by the Metropolitan Master Chorale, titled "All You Need is Love," is a tribute to and celebration of the one year anniversary of the Supreme Court decisions regarding gay marriage and the overturning of Prop 8. The repertoire will reflect the many aspects of love with some of the pieces by LGBT composers.
Music
Summer Sounds – Father's Day Concert
June 15, 1 p.m.
Weho Park
Co-sponsored by ToRaiseAChild.us and the Pop Luck Club as part of the City's Summer Sounds series, this concert will celebrate parenthood and provide opportunities for families to learn about adoption.
Education/ LGBTQ History
"Baby, You are My Religion"
June 15, 5 p.m.
City Council Chambers
Before Stonewall and the internet, lesbian bars were the only place where many could have any community at all, and Marie Cartier believes that these bars during the mid-20th century should be interpreted as a sacred space for this community. This event presented by the Mazer Lesbian Archives explores this community as a site of a lived corporeal theology and political space and reveals that religious institutions such as the Metropolitan Community Church were founded in such bars, that traditional and non-traditional religious activities took place there, and that religious ceremonies such as marriage were often conducted within the bars by staff.
Theatre
Celebration Theatre – New Works Series
June 17, 8 p.m.
City Council Chambers
As part of the monthly `New Works' reading series held in the Council Chambers this production by Celebration Theatre will celebrate the festival's theme "I Do" celebrating marriage equality.

Community
TRIBE Gay Men's Discussion Group
June 18, 7:30 p.m.
City of West Hollywood
West Hollywood Library Community Meeting Room
Education/Dance
REACH LA event
June 20, 8 p.m.
WeHo Park Auditorium
Funded as part of the City Arts Grants, this show will be organized by REACH LA, a non profit youth arts and action center located in downtown Los Angeles. REACH LA is committed to using the arts to raise community consciousness and address positive change in our society and is primarily directed toward young people of color. The show will feature a wide variety of performances, many of which have traditions rooted in drag ball culture.
Theatre
ALAP Lesbian and Gay Play Reading Festival
June 21, 12 noon
West Hollywood Library Community Meeting Room
Rehearsed readings of new lesbian and gay plays written expressly for the Festival around the theme "I Do."
Music/Performance Art
APT 3F and Planet Queer: A Midsummer Afternoon's Queer Wedding
Reception June 21, 3:30 – 6:30 p.m., Plummer Park Fiesta Hall
APT 3F and Planet Queer produce an interactive concert staged as a gay wedding reception for the City of West Hollywood/One City One Pride's Make Music LA day celebrations. APT 3F and Planet Queer will engage spectators with the humor, romance and excitement of a queer wedding in celebration of the one-year anniversary of marriage equality returning to California through music, performance art and theater.
Literature/Performance Art/LGBTQ History
Behold the Bridegrooms Revisited
June 21, 7 p.m.
Plummer Park Fiesta Hall
ReEvolutionary Productions' "Behold the Bridegrooms Revisited" will explore the wondrous, whimsical and wild words of California native and award-winning filmmaker and poet James Broughton. This year (from Nov. 10, 2013-2014) marks James Broughton's centennial and this special event joins the celebration along with the recent documentary feature film "Big Joy." Performance artist Jason Jenn will perform, reciting a short selection of some of Broughton' s most love-inspired and resoundingly queer liberationist poetry followed by a staged reading/ recreation of Broughton's wedding to partner Joel Singer in 1978.
Music
The Joint is Jumpin'
June 22, 3 – 5 p.m.
Congregation Kol Ami
This Joint is Jumpin is a free concert featuring jazz bassist and vocalist, Jennifer Leitham and the Jennifer Leitham Trio. Leitham will share the stage with the Vox Femina ensemble to present jazz music made popular by women. Audience members will also have the opportunity to be part of a question and answer session with Leitham to talk about "I Stand Corrected", the documentary about her life and career.
Theatre/LGBTQ History
Ivy Bottini, Portrait of a Crusader
June 22, 7 p.m.
City Council Chambers
A reading of a play about the activist and crusader Ivy Bottini, written by Alvin Schnupp and Ellyn Lerner.

Literature
Lambda Lit Book Club
June 24, 7 p.m.
West Hollywood Library Community Meeting Room
Music
Pacific Serenades
June 25, 7:30 p.m.
City Council Chambers
Pacific Serenades presents a concert with works by an LGBT composer.
Theatre
Under My Skin – Bajo La Piel
June 26, 8 p.m.
Lee Strasberg Theatre
Akabal Theatre Group's Under My Skin is a collaboration of works by a diverse group of writers exploring some of the most relevant issues that the LGBT community is facing today from a Latino perspective. With narratives, spoken word, dance, music, poetry and movement, the performers will embark on a journey of love, self acceptance and hope. Performed in Spanish and English with English supertitles.
Dance/ Performance Art
INTERFACE: The Marriage Project
June 27 and 28, 8 p.m.
Plummer Park's Fiesta Hall
As part of the MULTIPLEX DANCE (MXD) organizational arm called INTERFACE (Interactive Digital Dance Theater) in which audience, performers and digital technology interact and combine in an immersive way in non-traditional performance spaces, this program will feature both trained and "non-dancers" from the LGBT community and will culminate in a new show for public performance that correlates with Marriage Equality Day.

Dance/Mulitdisciplinary
APLA/RCP Pow Wow Celebrating All Life and Creation
June 28, 10 a.m. – 5 p.m.
Plummer Park
Education/ LGBTQ History
Queer Art as Activism: The StatusOh and The Last Bastion"
June 30
City Council Chambers
Talk featuring Dr. Amelia Jones and Dr. Jonathan D. Katz, two leading queer theorists and art historians.

Film/ LGBTQ History
"nelly queen: the life and times of jose sarria"
Date TBD
City Council Chambers
A film by Dante Alencastre about Jose Sarria, who became the first openly gay person to run for political office in the U.S. in 1961 in San Francisco. Sarria rose to fame by performing nightly camp operas at the bohemian Black Cat Bar. He closed each night by having the audience hold hands and sing "God Save Us Nelly Queens," a kind of anthem of resistance for his police-harassed gay audience and created an early and rare outpost of pride and gay solidarity. The San Francisco native and veteran is also known for founding the Imperial Court System, a national charity-generating social organization.
Community/LGBTQ History
Rainbow Key Awards
Date TBD
City Council Chambers
The City's Annual Rainbow Key Awards recognize those who have made significant contributions to the lesbian and gay community. This year's awardees are: The National Council of Jewish Women; Noelle Carter and Valerie A. Moore; Gay Men's Chorus of Los Angeles; Jeff Zarrillo, Paul Katami, Kris Perry, and Sandy Stier, and Kim Rocco Shields.