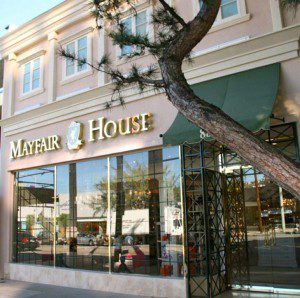 A federal judge has dismissed a challenge to West Hollywood's fur ban, leaving it up to Mayfair House, which filed the challenge, to decide whether to appeal his decision or continue to pursue the issue in state court.
The decision by U.S. District Court Judge George H. King said that the city's professed interest to "promote community awareness of animal welfare, foster the City's goal to be a community that cares about animal welfare, and further the City's reputation as Cruelty Free Zone for animals" by prohibiting fur sales was a "legitimate interest," rejecting claims that the ban was a violation of the U.S. Constitution. King declined to rule on whether the federal court could address Mayfair's contention that the fur ban violates state law.
In a press release, the Humane Society of the United States lauded the decision. "We applaud the court's decision to uphold the city's groundbreaking ordinance," the Humane Society said. "The ruling makes clear that the Constitution does not prevent West Hollywood or any other city from using its lawmaking powers to protect animals by prohibiting the sale of cruelly produced products."
However Joe Wilson of Kelley Drye and Warren, the lawyer representing Mayfair House, noted that his client still has the option of contesting the ban in state court or appealing King's federal court decision.
The West Hollywood City Council in 2011 passed a law banning the sale of clothing made in whole or part of fur. That law took effect in September last year. The ban was promoted by John D'Amico, now the city's mayor, who was running for election to the City Council. Among D'Amico's supporters were Animal Alliance California and Ed Buck, a local fur ban advocate. The city became the first in the United States to ban fur apparel. West Hollywood also has banned the retail sale of cats and dogs, and it recognizes their human companions as "guardians" rather than owners. The city has banned "pet rentals," cat de-clawing and, most recently, performances by exotic animals.
The fur sales ban has been especially controversial, with local businesses saying the city has no right to tell them what products they can or cannot sell. West Hollywood's Design District, which encompasses Beverly and Robertson boulevards and Melrose Avenue, is a fashion hub with boutiques that historically have offered fur products for sale. A 2012 study commissioned by the city found that 16 of 27 businesses responding to a survey said the ordinance would have a negative impact on them.
Keith Kaplan, executive director of the Fur Industry Council of America, said it is unclear what Mayfair House would do next. "We stand by, and I believe Mayfair House does as well, that this ordinance attempts to influence a person's freedom of choice," he said. "It stands as a pretty shining example of the waste and lack of leadership of the City Council."
A spokesperson for Mayfair House said the city ordinance and Mayfair's challenge to it has sparked threats of violence against the business and its employees. " We've got people calling and threatening to burn us down, said the spokesperson, who asked not to be identified. "The FBI has to get involved. … They ruined our Facebook. They ruined our Yelp. It's absolutely disgusting what they are doing."
"There are 15 hardworking very dynamic young people working here. This has jeopardized jobs in this community."
She said that in the case of Mayfair House the banned product is Ugg boots, which are made of sheepskin with fleece attached. While animal rights activists have said that animals are treated cruelly in the manufacture of Ugg boots, in fact the sheepskin is a byproduct of sheep who are killed for their meat.
She also said the city ordinance was unfair in banning the sale of fur apparel and not other products made from animal skin. "It just seems arbitrary to me that next door that you can buy a fur rug or spread for a sofa, but if you cut holes in it to wear it, it's illegal," she said. "We are all animal owners. We love animals. We only deal with reputable dealers (of animal products."
Mayfair House, at 8844 Beverly Blvd. near North Clark, is owned by Johanna Judah, who describes the store as a "mini-Herrods." In additional to home furnishings and accessories, it offers handbags, jewelry, watches and other items.