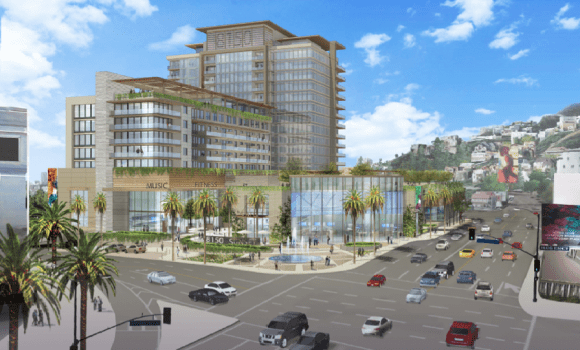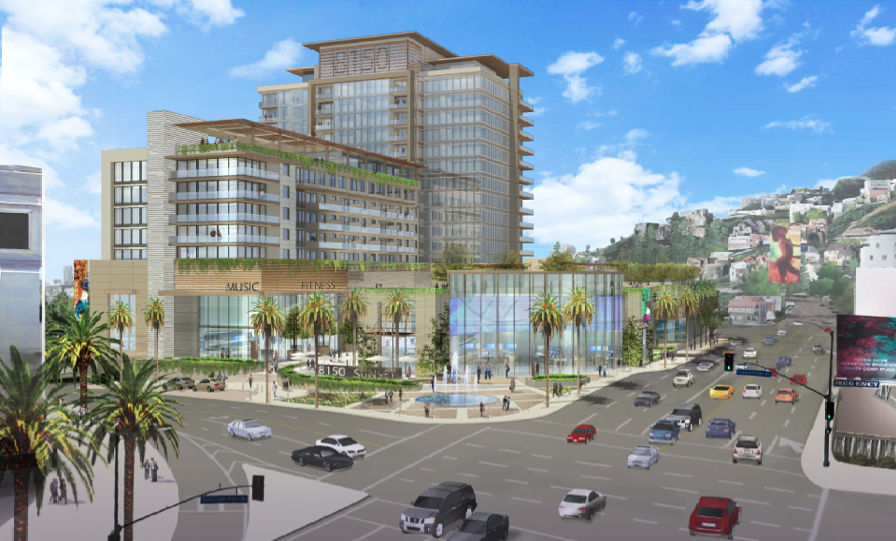 The state legislature's Joint Legislative Budget Committee has endorsed a request by the developer of a controversial project at 8150 Sunset Blvd. that would prevent local agencies from considering its aesthetic or parking impact in deciding whether to approve it.
The project's so-called "environmental leadership development project" (ELDP) status also means that local residents, who have expressed their opposition to it in public meetings, will have limited ability to challenge it in court. ELDP regulations stipulate that all legal proceedings, including initial hearings and appeals, can take no more than 270 days. That is an exceptionally short period in the California legal system.
The project by developer Townscape Partners is at the intersection of Sunset and Crescent Heights boulevards. It is within the City of Los Angeles and adjacent to West Hollywood. At a public meeting last September more than 100 residents turned out to air a wide range of grievances, including concerns over parking, rooftop sound, traffic, demolition of the Chase Bank building, which some see as historic, and the 16-story height of the apartment building along Havenhurst.
The project would include 249 apartment units in two buildings. One would be a 108-foot-high, nine-story apartment building along Crescent Heights. The second would be a 191-foot-high, 16-story apartment building along Havenhurst Drive. Also included are 111,000 square feet of commercial space, which would include restaurants, a grocery store, retail shops, fitness center and a bank.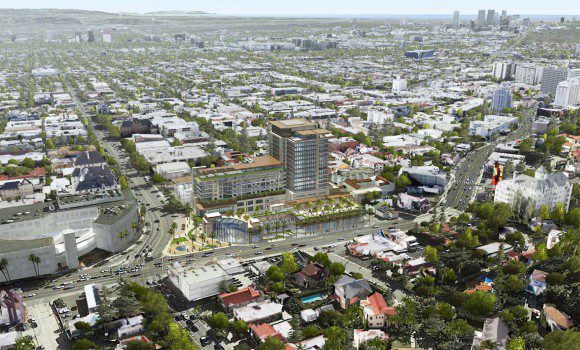 In a letter to the governor's office, which already has given its approval to the project, state Sen. Mark Leno, the budget committee's chair, said he accepted the governor's decision, although he noted that he had received letters opposing the ELDP status. Leno forwarded those letters to the governor's office for his consideration. One was from the West Hollywood City Council, four of whose members voted Monday to oppose the designation. The complex issue was brought before the Council by Councilmember John Heilman at the last minute as an "urgency" item, with council members given only two hours to review it. For that reason, Councilmember John Duran abstained, saying he didn't have enough information to make an informed decision on Heilman's proposal without getting more information from both sides.
To qualify as an environmental leadership development project, a project must be either residential, a combination of residential and commercial or an employment center. It also must be located on an infill site, which is defined as underdeveloped property surrounded on three sides by urban development, and within a half mile of an existing or planned major transit stop. Finally, the developer must spend at least $100 million on the project, it must result in creation of high-wage, high-skill jobs at prevailing wages during construction and not result in any net additional greenhouse gas emissions.
While the Legislative Analyst's Office recommended approval of the ELDP request, it noted that some of the qualifications the project is required to meet are open to interpretation. For example, it said that it isn't clear if the requirement that the project create "high-wage, highly skilled jobs that pay prevailing wages .. and provide construction jobs and permanent jobs…" is satisfied by Townscape's contention that it will create 300 jobs. "It is difficult to verify this projection or determine with any certainty how many of these jobs would have existed without the project," the analysis said. The analyst decided that the requirement would be met because of the amount of retail space included in the project, for which workers eventually would be hired.
The analyst also it isn't clear how to measure the ELDP requirement that the project would reduce traffic from employees and visitors by 10 percent from the amount expected of a similar project that didn't meet ELDP standards. The analyst decided to rely on Townscape's assertion that it would implement various policies to reduce traffic flow and that the project already sits within an area where there is significant traffic, some of which presumably would come to the 8150 Sunset project when it is completed.
EDITOR'S NOTE: An earlier version of this story misrepresented Councilmember John Duran's explanation for why he decided not to vote on a resolution opposing granting ELDP status to the 8150 Sunset Blvd. project. It has since been corrected.