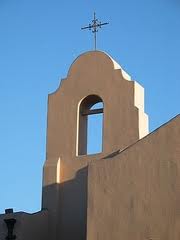 People Assisting the Homeless (PATH) is in discussions with the West District of the United Methodist Church about turning West Hollywood's Crescent Heights United Methodist Church into low-income housing.
"The planning process for the project is very preliminary at this stage and will include affordable housing," said Jeremy Sidell, chief development and communications officer for PATH. "The design and use will be decided by what has the most benefit for the community, and ultimately the community will help decide."
"Any plans will include preservation of the historic elements of the building and its unique character," Sidell said. He said that if the project moves forward, construction would not begin before the end of 2015.
"Our goal is to develop the property. Fix it up and see what God would have us to do there," said the Rev. Kathey Wilborn, superintendent of the UMC west district.
The Crescent Heights church sits at the southeast corner of Fountain Avenue and Fairfax Avenue. It was closed in 2011 after being in operation for 97 years because of a constantly shrinking congregation.
The closing was acrimonious, with the church's pastor, Scott Imler, refusing at first to leave the property. Imler accused Methodist leaders of closing the church because of his reputation as an advocate for legalizing marijuana and because it had a largely gay congregation. United Methodist leaders, however, noted that the church only had 39 active congregants, not enough to sustain it.
"They were not attracting people, they were not retaining people, not paying bills and the building was falling down around them," church official Cedrick Bridgeforth said at the time. "It was not a sustainable congregation."
Crescent Heights UMC was known for its support of the LGBT community, serving as the initial home for groups such as Project Angel Food, which provides meals for AIDS patients, and the EAGLES Program, the LA Unified School District's alternative LGBT high school. It also hosted addiction recovery support groups.
PATH has a contract with the City of West Hollywood under which it provides short term housing for homeless people. But its PATH Ventures also has developed a number of permanent housing projects for low-income people in partnership with private firms such as Related California, A Community of Friends, Clifford Beers Housing, Affirmed Housing Group and Century Housing.