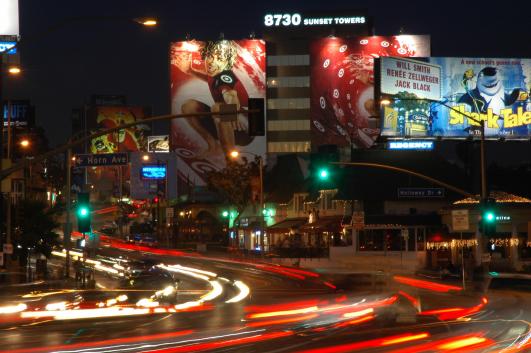 The West Hollywood City Council approved a $492,000 budget proposed for the Sunset Strip Business Improvement tonight. The budget for the 2014-2014 fiscal year, which begins July 1, will be financed with an assessment levied on businesses within the district.
The district, which is administered by the Sunset Strip Business Association (SSBA), includes the major hotels, nightclubs, restaurants and other businesses along a 1.6 mile stretch of Sunset Boulevard from Doheny Drive on the west to just past Harper Avenue on the east. The city levies and collects the assessment  and gives the money to the SSBA. The SSBA hopes to supplement that revenue with an extension of a contract with Jack Daniels, which pays $32,000 a month to hang banners from light poles along the Strip, and with an additional $20,000 for the year in sponsorship fees.
The district has been in poor financial shape in recent years because of losses incurred by the annual Sunset Strip Music Festival and the Sunset Strip Farmers Market. The festival lost $350,000 last year and $432,000 the year before. The market lost 215,000 on the Farmers Market in the 2012/2013 fiscal year. The district has had to borrow money to cover those losses.
In an attempt to make the festival and market financially viable, the SSBA has engaged Nederlander Concerts to stage and promote the festival and is moving it from August to September this year. It has hired Calamigos Ranch, another event management company, to manage the farmers market. Calamigos already has been promoting a revamped market, calling it a beer festival rather than focusing on locally grown food. West Hollywood has allocated $125,000 to the music festival this year, under the condition that it be repaid before money goes to Nederlander or the SSBA.
Thirty-seven percent ($181,000) of the assessment on Strip businesses will go to pay for security, 34 percent ($169,000) will be allocated for cleaning and maintenance and 28 percent ($139,000) will go to cover administrative and operational expenses.
The proposed budget will be the subject of a public meeting on June 2 at 6:30 p.m. at the City Council chambers at 625 N. San Vicente Blvd. south of Santa Monica.