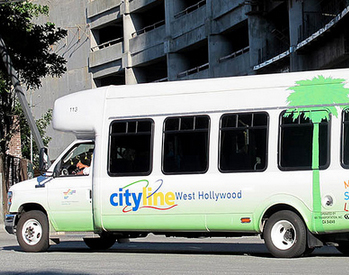 West Hollywood will implement some changes tomorrow to the routes and schedule of Cityline, the city's free shuttle service.
The changes are intended to reduce waiting times for passengers and to make the system more efficient.
The most important change in the new Cityline route is the order of stops in the city's westside areas. Cedars-Sinai Medical Center at Gracie Allen Drive will now be the origin of the Eastbound Orange Route, and it will be the terminus of the Westbound Blue Route. Both Eastbound and Westbound routes will continue to make all stops, as before, with a slightly altered schedule and route; Cityline users can expect a difference in arrival times of just a few minutes. There will continue to be a stop at Pavilions grocery store, located at Santa Monica and Robertson boulevards, but this stop will no longer serve as the beginning or end of a route.
New Cityline timetable route maps and timetables are available on the pages that follow. Hard-copy printed timetable route maps are available at West Hollywood City Hall,  8300 Santa Monica Blvd. at Sweetzer, as well as on Cityline vehicles. Timetables are available in English and in Russian.
For additional information about Cityline, call Francisco Gomez at (323) 848-6510.
Page 2: Cityline westbound route and schedule.
Page 3: Cityline eastbound route and schedule.