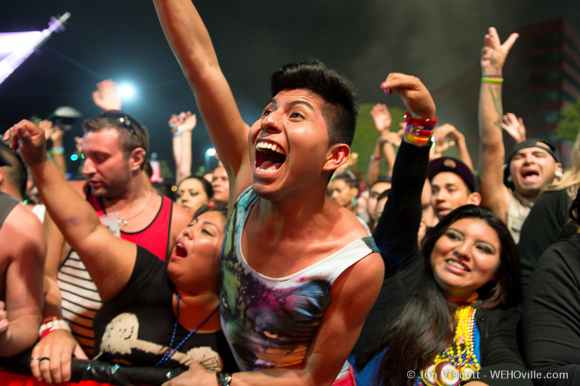 Today is the beginning of an amazing series of events over the next 40 days celebrating LGBT pride and organized by the City of West Hollywood. The One City One Pride events range from a forum of international LGBT leaders to discuss gay rights issues, to classical music performances, to readings by LGBT authors and exhibits by gay artists.
And then there's the little more than two days of Pride events staged by Christopher Street West, which include a parade on Santa Monica Boulevard on June 8 and what amounts to a pretty boozy party over that weekend in West Hollywood Park.
The contrast is stark. The City of West Hollywood has decided to educate while celebrating the LGBT community's contributions to modern culture and the ongoing fight domestically and internationally for LGBT rights. Christopher Street West has decided to throw a party.
As Pride approaches, members of the board of CSW should ask themselves why that apparently is the only goal of their non-profit organization. After all, it's not as if West Hollywood and environs are lacking for gay party promoters. Jeffrey Sanker, Tom Whitman and Luke Nero and Andres Rigal quickly come to mind.
One has to look no further than Long Beach to find a non-profit Pride organization that sees its mission as also supporting other LGBT groups. In 2012, the most recent year for which non-profit tax filings are available, it reported donations of $50,000 to seven local organizations including the AIDS Food Store of Long Beach and the city's Historical Society. San Francisco topped that with grants of $143,000 to over 100 grantees that year. That's despite the fact that San Francisco reported slightly less revenue from its Pride events ($1.6 million) than did CSW ($1.7 million). Long Beach Pride revenue was $1.7 million.
Some argue that CSW's annual event is beneficial to West Hollywood because of the people it attracts from out of town. No doubt the bars in Boystown have a couple of great nights. But is the meager tax revenue generated from more beer sales worth the nearly $900,000 that the CSW event costs West Hollywood to cover the cost of security and street cleaning and other services for the parade and festival?
In a little more than two weeks, the annual Pride parade and festival will be behind us. That gives CSW's board 52 weeks to think hard about what LA Pride does mean and what it should mean.
There are a number of questions CSW should consider:
1) How much impact does a once-a-year parade down the main street of the gayest city in America have on advancing LGBT rights? If the Rev. Martin Luther King had only staged his marches in Atlanta's Sweet Auburn he wouldn't have provoked the heated debates (and battles) that led America to come to terms with the discrimination that black people faced.
2) Should LA Pride be structured as a fund-raiser instead of a party? Could it be an opportunity to generate cash to support LGBT organizations across the country and the world who face much bigger obstacles (including death by stoning) in their fight for equal rights than we do in WeHo?
3) Should LA Pride acknowledge that pride in one's sexual orientation isn't a once-a-year thing? Why not a series of educational and cultural events throughout the year that take advantage of the LA Pride brand and show that we LGBT people are about more than partying?
This will take a lot of work, and it's not at all clear that the current leadership of CSW is up for it. But time is a wasting, so that work, if it happens, had better start on June 9.