It's been 525,600 minutes (give or take)  since the Supreme Court last year issued historic decisions on Prop 8 and the Defense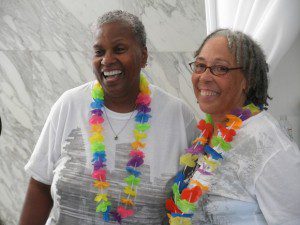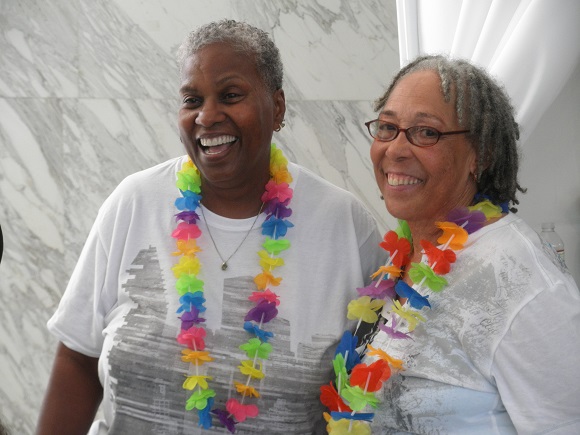 of Marriage Act (DOMA). In the year since marriage equality returned to the Golden State, many same-sex couples have tied the knot, including some who got hitched in the courtyard of the WeHo library, where members of the City Council offered their services as officiants free of charge.
Today, transgender actress and activist Candis Cayne is offering her officiating services to couples who'd like to wed at The Abbey, where the festivities will also include complimentary wedding cake all day.
Last year, in a WeHo tradition as entrenched as Sunday funday brunches, LGBT and allied people from all over the area flocked to WeHo to rally.
The fight for marriage equality has included many a march and rally to celebrate or protest in West Hollywood. Here's a timeline of some milestones on the path toward marriage equality (reverse chronological order):
August 2010 – Justice Vaughn Walker Rules Against Prop 8. "Proposition 8 does nothing more than enshrine in the California Constitution the notion that opposite-sex couples are superior to same-sex couples," wrote Judge Vaughn Walker, who ruled that the measure was unconstitutional.
 January 2009 – 'Prop 8 The Musical' Live.

 

On Jan. 10, 2009, people in many U.S cities protested the "Defense of Marriage Act." The West Hollywood protest included a live performance of Prop 8: The Musical, a popular Funny Or Die video.

 November 2008 – Prop 8 Passes. Just six months after the celebratory cake was cut, the passage of Prop 8 dealt a major blow to proponents of marriage equality. The night following Election Day, thousands of people marched in protest in West Hollywood and Hollywood.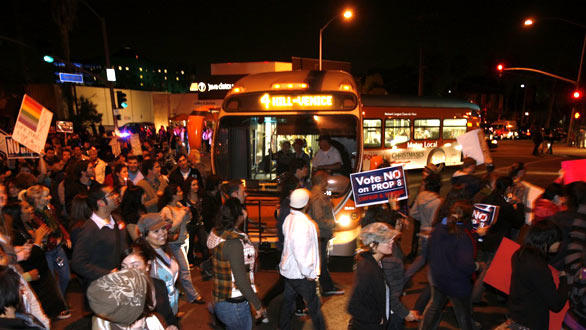 June 2008 – Going to the Chapel (or Park). Hundreds of gay and lesbian couples, including actor George Takei and Brad Altman (above), queued up in West Hollywood on June 17, the first day they could get marriage licenses. Many tied the knot that very day in West Hollywood Park.


George Takei and Brad Altman at West Hollywood Park in June 2008 with City Councilmember John Duran on left.

May 2008 – Celebrating the California Supreme Court Ruling. The same-sex marriages that took place during San Francisco's "Winter of Love" in 2004 were later invalidated—but the resulting court case led to the state Supreme Court's historic 2008 decision striking down California's ban on same-sex couples getting hitched. Of course, the LGBT community celebrated in WeHo.


Doreena Wong and Jenny Pizer at the May 2008 rally.