As West Hollywood turns 30, the question on the minds of many is whether the city can preserve its "urban village" charm while also continuing to add the businesses and housing necessary for any city to remain vibrant and economically viable.
Jason Illoulian believes the answer is "yes," and he hopes to prove it with a project he is calling "Robertson Lane."
Illoulian is a fourth generation real estate developer who lives in and grew up in West Hollywood. He says development is in his blood, recalling that his father began grooming him to take his place in the family company at the age of five.
"He walked me around and asked, 'What do you like about this shopping center? This building'," Illoulian recalls.
Illoulian studied international economics at Georgetown University and then took a master's in real estate and urban development at Harvard University. At law school at Emory University he worked on a project with the federal Department of Housing and Urban Development.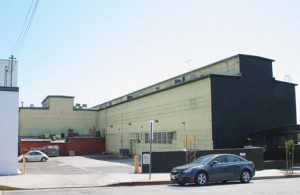 Now 31, Illoulian is embarking on what may be the most significant of his projects to date. Robertson Lane will replace the The Factory, the iconic nightclub building that sits between Robertson Boulevard and LaPeer Drive south of Santa Monica Boulevard. Once a real factory where motion picture cameras were manufactured, it was converted into a nightclub space in 1967.
The Factory was an early hit. Then it closed in 1972 but by 1975 was converted to Studio One, a venue that its owner described as "planned, designed and conceived for gay people, gay male people. Any straight people here are guests of the gay community. This is gay!" The building has housed numerous venues, including the "Axis" club that helped make Sandy Sachs a lesbian icon, and has served as home to nights such as "Rasputin" and "Ultra Suede."  An effort to have it designated a cultural resource was rejected by the City Council in 1995.
Illoulian says Robertson Lane is a joint venture with the Goller family, which shares with the Illoulians a long history in West Hollywood.  Nate Goller, an attorney, is the husband of Phyllis Morris, founder of Phyllis Morris Originals and one of the more distinctive furniture designers from 1950 until her death in 1988. Their daughter, Jamie Adler, now runs Phyllis Morris with her husband Jonathan, and their flagship is situated next to the Factory.  Goller was a partner with Sandy Sachs in the Factory / Ultra Suede club that opened in the building in 2000.
Robertson Lane will replace the Factory nightclub space with a hotel with more than 250 rooms, underground parking with more than 1,000 spaces and a plethora of cafes and small retail spaces "curated," Illoulian says, to ensure a variety of interesting shopping experiences. What he means by that, he said, is that he will reject retail tenants representing brands that have come to be seen as generic such as CVS and Target. As a model, Illoulian has Manhattan's Ace Hotel in mind. That hotel is known as a downtown hipster hangout, with a lobby filled with cool geeks working on their laptops.
Perhaps the most dramatic part of Illoulian's project will be the 30- to 35-foot-wide lane through the property, providing a pedestrian walkway between Robertson Boulevard and LaPeer. Robertson now is a mix of upscale shops (Christian Louboutin, Phillip Lim and Phyllis Morris), restaurants (Sur, Tortilla Republic, Hedley's) and nightclubs (The Abbey, Here Lounge, P.U.M.P). By contrast, LaPeer is pretty much desolate. With the proposed walkway, people walking on LaPeer will get a visual invitation to cross over to Robertson, and perhaps to West Hollywood Park, which the project fronts. And those on Robertson will be able to easily walk to LaPeer.
Illoulian said that passageway, expensive for him because it will take up what could have been leasable retail space, will provide a crucial connection between several areas of West Hollywood. He notes that WeHo, while a geographically small city, nevertheless is composed of separate hubs such as the Sunset Strip, Melrose Place and Robertson Boulevard that aren't connected. Just east of West Hollywood Park, which Robertson Lane fronts, is the Pacific Design Center and the MTA's bus depot, which PDC owner Charles Cohen is negotiating a proposal to turn into a shopping plaza.
Just west of LaPeer and stretching to Doheny is the proposed Melrose Triangle Project, a project of the Charles Company. While Beverly Hills has those iconic signs alerting a driver that he has entered that city's limits, the Melrose Triangle project on the Beverly Hills / WeHo border intends to shout out West Hollywood with four stories covered by glass panels that will glow at night. The pedestrian walkway through Robertson Lane will make it easier to walk west through Melrose Triangle toward Doheny with little exposure to cars. A proposal to demolish a Streamline Moderne building from 1928 for the project has drawn the ire of local preservationists.
"It becomes a beacon of entry into the city," Alan Pullman, founder of Studio One Eleven, the designer of Melrose Triangle, said of its 'gateway' building facing Beverly Hills.
Illoulian engaged Hodgetts + Fung as the architect for the Robertson Lane project. Craig Hodgetts, co-founder of H+F with HsinMing Fung, has a broad background that extends from automotive design to theater to architecture. Hodgetts is a professor at UCLA's Graduate School of Architecture and Urban Planning and was founding dean of the School of Design at the California Institute of the Arts. Hodgetts's firm was involved in the six-year modernization of the Hollywood Bowl. An especially creative project was the Towell Library at UCLA. Towell (Temporary Powell Staging Facility), was a tension structure for the library erected while the Powell Library was secured against earthquake damage. Boldly asymmetrical, with a skeleton like that of a plane, the Towell's aluminum ribs were covered with a stretched-fiberglass membrane that was in turn anchored with laced cables to surrounding masonry walls.Hodgetts praised Illoulian as that rare client who puts a premium on aesthetics.
H + F also is working on a multi-use building that will be constructed on Sunset Boulevard north of La Cienega as part of one of the largest developments in West Hollywood's history.
Illoulian is aware that his project, like any that have been proposed or are under development in West Hollywood, will be criticized by some residents for creating more traffic in an already congested city. But he notes that it will include that underground parking garage, and that the goal of Robertson Lane actually is to make traversing the city on foot easier and more desirable.
In recent months Illoulian has reached out to businesspeople and residents near the project, inviting them to meetings where he shows the plans and answers their questions one on one, looking at home and remarkably casual in a t-shirt, jeans and sneakers. At a recent presentation at Phyllis Morris Originals on Robertson Boulevard, Illoulian took questions from an apparently skeptical resident, offering his reasoning for various aspects of the plan and thanking her for her input. Her skeptical face softened as he talked.
The next step in the project is to take it before the city's Design Review Subcommittee. Illoulian has been consulting along the way with many city leaders, including Mayor John D'Amico, who he credits with convincing him to straighten the passageway through Robertson Lane so that passersby can look directly through it. After the design review, the project goes to the Planning Commission before a final vote by the City Council.
While perhaps the most noteworthy, Robertson Lane isn't Illoulian's only West Hollywood project. The city's Community Development Department currently is reviewing a building that Illoulian's Faring Capital has proposed for 8818 Beverly Blvd. at North Clark Drive.
On a lot that currently houses Poliform, the furniture retailer, it would be five stories high. The building would include 9,000 square feet of retail space and a 2,000-square-foot restaurant on the first floor. The restaurant will include a small outdoor dining area, which Illoulian says will help meet his goal to make Beverly more pedestrian friendly. The retail shops will be among the smallest on that stretch of Beverly and, as is the case with the Robertson Lane project, Illoulian said he hopes to attract a very diverse mix of retailers.
The second and third floors will include 26,000 square feet of office space. Illoulian said he sees a growing demand for more office space in West Hollywood, especially given plans by Beverly Hills developer Tyler Siegel to convert much of the office space in the former ICM building at 8899 Beverly Blvd. into residential units.
The 8818 Beverly project will contain 10 residential units with a combined total of 25,000 square feet on the fourth and fifth floors. The building also will feature a courtyard.
The architect is R&A (Robert & Anderson Design), whose principals are Christian Robert and Benjamin Anderson. Robert is a native of Germany, and the firm is licensed to practice there and in the United States. In West Hollywood it has designed the Fairfax Apartments at 1250 Fairfax Ave. south of Fountain, which has been approved by the city's Planning Commission.
City planners also are reviewing a plan by Faring Capital to build 50 condos at 702 Doheny Dr. at Harland on land now occupied by two single-family houses and also used for the annual Mr. Bones Pumpkin Patch Halloween festival and the Mr. Greentrees Christmas tree lot.
According to the West Hollywood Community Development Department, that project would encompass 93,000 square feet. The property formerly was owned by Heidi Corteses's Doheny LLC. The owners of the Mr. Bones business said last year that they are looking for a new location for this year's Halloween event, given the property owner's intention to develop the site.
CORRECTION:  A previous version of this story said that The Factory had been designated as a cultural resource by the West Hollywood City Council in 1995.  In fact, the Council declined to designate it as such.  The story has been updated to correct the error.