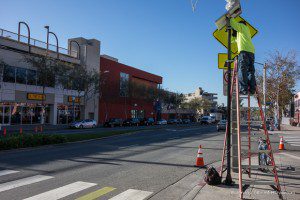 A discussion Monday about what should be done to better protect pedestrians in West Hollywood's crosswalks has exposed a rift between the city's Public Safety Commission and its Transportation Commission.
After hearing half a dozen speakers urge the city to do more to protect people using the crosswalks, Public Safety Commission Chair Ruth Williams pointed out that any action would require the support of the Transportation Commission.
"I am angry about this particular issue," Williams said. "For years this commission has raised this as a public safety issue…. We continually beg for response from the transportation commission."
Williams said the transportation commission has been reluctant to take up the crosswalk safety matter, which got the public's attention again on June 28 when a 59-year-old man in a crosswalk at Santa Monica Boulevard at Westmount was hit by a car.
"I recommend that you go before the Transportation Commission and really put pressure on them," Williams told local residents who spoke up about the issue."
Marcy Norton, another Public Safety commissioner, agreed, saying "we have been hitting a roadblock with the Transportation Commission."
The Public Safety Commission is charged with evaluating and recommending "suggestions involving public safety issues" along with "strengthening community response to emergencies" and making recommendations involving "neighborhood livability issues."
The Transportation Commission, whose chair is Lindsey Horvath, a former City Council member, is responsible for analyzing transportation, transit and parking issues and making policy recommendations to the City Council.
Each commission is composed of seven members, each of the five members of the City Council appointing one and two members appointed by the Council as a whole.
Speakers at Monday night's meeting offered a variety of suggestions for improving pedestrian awareness of cars while in crosswalks and for alerting drivers to pedestrians.
Lauren Meister, a candidate in the 2015 City Council election and a former public safety commissioner, recommended that the city distribute copies of a pubic safety brochure and cards alerting pedestrians to be watchful as they entered crosswalks.
Larry Block, another declared City Council candidate and a member of the city's Disability Advisory Board, complained that the city still has yet to issue a request for bids for more crosswalk lights, although that request was authorized by the Council in February. At that time, the Council agreed to install lights at crosswalks at Santa Monica Boulevard at Palm and Hancock avenues and San Vicente Boulevard in front of the West Hollywood Library.
Pat Dixon, a member of the city's Senior Advisory Board, recalled years ago that she, while driving, had accidentally hit someone in the Santa Monica / Westmount crosswalk. Dixon said there should be a stop sign at that crosswalk, forcing motorists to stop. The current flashing light, activated when a pedestrian pushes a button on a pole on the sidewalk, isn't helpful, she said. "That flashing light wouldn't work on a Christmas tree."
Cathy Blaivas, a resident of the Eastside, recommended more prominent signs calling out the presence of the crosswalks and using some of the city's Block by Block public safety monitors to monitor the crosswalks.
Stephanie Harker recommended that tickets be issued to pedestrians who enter crosswalks without pressing the flashing light buttons and who are fixated on their mobile phones rather than the traffic around them. She also suggested tickets be issued to drivers who sped through crosswalks with pedestrians in them.
Phil Hoskins suggested the city install pedestrian activated stop lights at Santa Monica Boulevard's intersections with Palm, Hancock and Westmount. Unlike the current system, in which a pedestrian immediately activates a flashing light at a crosswalk, a stop light system would require pedestrians to gather and wait until the light turned green for them to cross.
Another suggestion came from Steve Levin, who said he opposed red lights and stop lights at crosswalks but thought the city should paint them yellow to make them more prominent.
Members of Cross Safe WeHo, a group of citizens that recently organized to deal with the crosswalk safety issues, intend to speak before the Transportation Commission at its next meeting, which is at 7 p.m. Wednesday at Plummer Park Community Center.
On Monday night the Public Safety Commission elected Robert Burke as its new chair and Marcy Norton as vice chair. Burke pledged that the commission would do all it could to address the crosswalk safety issue.
Correction:  An earlier version of this story erred in saying the Public Safety and Transportation commissions each had five members.  Each commission has seven members.  The story was been corrected.