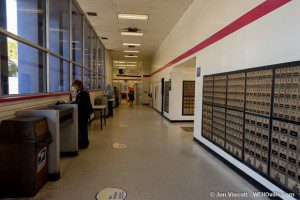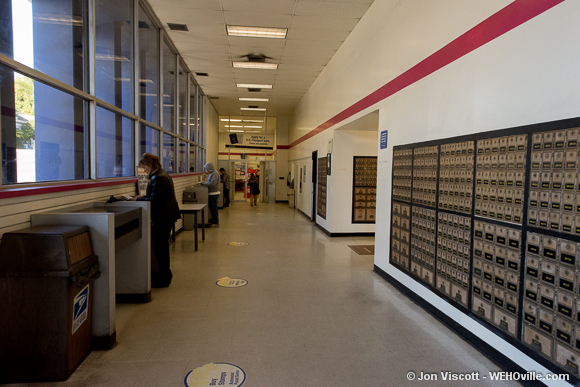 You can still buy stamps at West Hollywood's former post office on San Vicente, but if you need assistance mailing a package or with other services, head to the post office's new location on Doheny instead.
The services and staff of the old post office have been relocated to 458 N. Doheny Drive at Dorrington (near Melrose), which opened its doors on July 7. Its hours are the same as at the previous location: 9 a.m.-5 p.m. on weekdays and 9 a.m.-2:30 p.m. on Saturday.
P.O. box customers will have the same P.O. box numbers and ZIP codes, according to a post office news release. The new location will offer 24-hour access to P.O. box mail and a self-service kiosk where customers can buy stamps and mail items after retail hours.
A self-service kiosk will also remain at the old location, 820 N. San Vicente Blvd. at Santa Monica. That location is now a "letter carrier annex," according to Richard Maher, public information officer for the U.S. Postal Service (USPS) in the L.A. area. The change from full-service post office to letter carrier operation was part of a plan that also included selling the Beverly Hills post office, which was "much larger than we needed," Maher said. (USPS plans to lease a portion of the large Beverly Hills building and to continue retail services there.)
"The relocation of West Hollywood Post Office's retail operations, like the many closures of entire facilities around the country, has done little to save USPS money, but only served to degrade the quality and convenience of service to residents. Until the Postal Service modifies the burden of prefunding its retirement plan in such short order, it will continue to operate at an artificial but enormous deficit," Rep. Adam Schiff (D-Burbank) said via e-mail.
Schiff previously criticized plans to move WeHo's post office, as did WeHo Councilmembers Abbe Land and Jeffrey Prang. Schiff and the city touted the previous location's accessibility, especially in regard to seniors, the disabled and others who rely on non-vehicle transportation. USPS has pointed out that the new location is available via sidewalks and public transit.