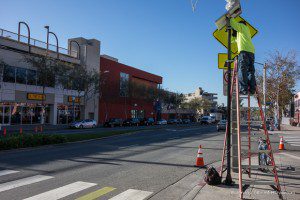 West Hollywood City Councilmembers John Duran and John Heilman will ask the Council tonight to allocate $15,000 to fund a campaign to promote pedestrian safety in crosswalks.
The request comes of the heels of a citizen campaign to address perceived public safety issues at the city's crosswalks that was sparked by a motorist hitting a pedestrian on June 28 in the crosswalk on Santa Monica Boulevard at Westmount.
Since that accident, West Hollywood residents, including several candidates in the 2015 race for City Council, have appeared at the city's Transportation and Public Safety commissions to ask that more steps be taken to improve crosswalk safety. Suggestions have ranged from closing mid-block crosswalks altogether to ticketing pedestrians glued to their mobile phones while crossing busy streets along with drivers who hit them and installing crosswalk stop lights synced to traffic lights. Several of the suggestions are outlined on Cross Safe WeHo, a Facebook page created to promote the effort.
Under the proposal by Duran and Heilman, the city's Public Safety Department would work with the Public Information Office to engage a production company to produce the announcements.
The City Council will meet at 6:30 p.m. tonight at the Council Chambers at 625 N. San Vicente Blvd. south of Santa Monica.