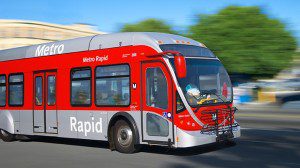 Senior citizens and the disabled in West Hollywood won't see an increase in the cost of their monthly public transit passes, for now at least.
The West Hollywood City Council voted last night to cover the entire increase in the monthly senior / disabled pass, which is scheduled to go from $14 to $20 in September. The Los Angeles County Metropolitan Transportation Authority voted in May to increase fares in an effort to offset projected budget deficits. One-way bus and rail passes will go from $1.50 to $1.75. Day passes will increase from $5 to $7. Monthly passes will increase from $75 to $100. Metro may also increase fares in 2017 and 2020.
The current subsidy of $6 for a $14 monthly pass costs the city $25,560 a year. The city's Human Services Department had recommended West Hollywood increase the subsidy to $10 for the $20 pass, which would have resulted in an additional expenditure of $17,000. Covering the entire increase will cost the city $51,120
Councilmember Abbe Land recommended the city cover the entire increase, saying that such services are a core part of what the city does. The city's Disabilities Advisory Board and the Transportation Commission had recommended the city cover the entire increase.
In a report to the Transportation Commission, Perri Goodman, the city's transportation program administrator, said that on average 350 seniors and disabled people in West Hollywood buy a total of 4,260 subsidized bus and rail passes a year. There is no income verification required for senior passes, which are available to those 62 and older.