In West Hollywood, rent is expensive—but right now Larry Block's concern is that, for some residents, it's the stairs that are too damned high.
Block, a local business owner who plans to run for City Council in 2015, wants seniors and disabled people struggling with access to their upper-floor dwellings to get dibs on first-floor units that become available in their building. Tonight, Block plans to present a proposal to the city's Rent Stabilization commission. He hopes the commission will encourage the City Council to support updating the city's rent stabilization ordinance.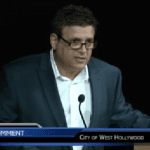 "In today's market environment, a senior citizen, or disabled person who can no longer walk up steps to their unit are forced to relocate," Block wrote in a draft of his proposal that he provided to WEHOville.com. "If aging in place is part of our Vision 2020 plan then we have to strengthen our rent stabilization ordinance."
To qualify under Block's proposal or "swap initiative," a tenant would have to meet certain criteria of either having mobility issues or meeting a certain age requirement ("perhaps age 80").
Due to WeHo's rent control laws, which limit how much rent can be raised for existing tenants but allow vacant units to be rented at market rate, landlords would often stand to make more money by losing a tenant than by keeping him or her in the building.
Block suggests that a mechanism could be enacted to "thread the needle," with the newly vacant upper-floor unit returning to market rate and landlords offering a percentage of that profit, in the form of rental credit, to the relocated tenants. Those tenants, he said, would see a rental increase when they moved to the ground floor, but that increase would be offset by a credit (and perhaps through financial assistance from the city or social service agencies).
Kathleen Sullivan, who heads the seniors services department at the Los Angeles LGBT Center, agreed that first-floor units are often preferable for the "safety and well-being" of seniors.
"For many of older adults, climbing up a flight of stairs is difficult, tiring and can be dangerous," Sullivan said via e-mail. "There are also concerns in the event of an emergency when an evacuation is necessary. Exiting from a first-floor unit is faster than from a higher floor."
According to Sullivan, 14.9 percent of WeHo residents are 65 or older (compared with 12 percent of the U.S. population), with that percentage expected to reach 32.5 percent in 15 years.
"Living alone for all seniors correlates with negative mental and physical health outcomes," Sulivan said. "Center staff can find no other city with an equal or higher rate of seniors living alone [than WeHo]."
For seniors who have accessibility issues in their homes, Sullivan said, the Center may be able to offer referrals to agencies that can help "enhance functionality." For WeHo renters, she said, it is a good idea to contact City Hall, which has "a variety of expertise and services."
It's an issue that the City of West Hollywood has been dealing with in an effort to make it possible for the elderly to "age in place." In 2010, there was an "Aging in Place" conference at Plummer Park with a panel that included representatives from Jewish Family Services, the West Hollywood Community Housing Corporation and Victor Regnier, a professor of gerontology with a degree in architecture who has conducted research in international settings as well as the United States. West Hollywood housing staffers also tried to assess the state legislature's interest in funding help for seniors who are long-term tenants in aging buildings. The city's budget for  2014-16 calls on its Rent Stabilization and Housing Division to work with its Social Services Division to further develop strategies and programs to assist aging residents.
In the spirit of full disclosure, WEHOville contributing editor Stevie St. John previously worked in the marketing and communications department at the Los Angeles LGBT Center. Since leaving the Center, she has worked on some Center projects such as contributing to the Vanguard newsletter and teaching a class through the Learning Curve program.