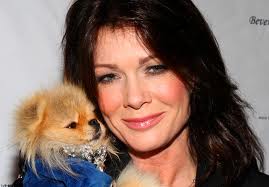 The city of Palm Springs will honor 'Real Housewives of Beverly Hills' star Lisa Vanderpump with a star on its Walk of Fame.
The star will be dedicated Wednesday at a ceremony that will feature musician Lance Bass and White Party Palm Springs founder Jeffrey Sanker as guest speakers. Palm Springs City Councilmember Paul Lewin will also be on hand to honor the "television personality, author and humanitarian," according to a press release.
"Lisa Vanderpump will be honored by the City of Palm Springs for her contribution to the advancement of equal LGBT rights and the exceptional visibility and awareness she has brought to the Palm Springs community. Lisa will be joining the ranks of Elizabeth Taylor, Elton John and Marilyn Monroe who have all received stars on the Walk of Stars," the press release said.
In West Hollywood, Vanderpump is the kind-of-namesake of P.U.M.P. Lounge, which she co-owns with husband Ken Todd. The bar, located at 8948 Santa Monica Blvd., opened in May and is involved in a lawsuit.
Plaintiffs Andrew Gruver and Ryan Carrillo are asking that the lease to the property be given to them. Gruver and Carrillo, allege that Elie Samaha, who owns the master lease, had promised them he would invest $500,000 in a gay sports bar they hoped to open there.