A small city with a high profile, West Hollywood has an outsized city government—but it's not all about City Hall. There are numerous commissions and advisory committees, comprised of local residents or others with strong ties to WeHo, that give the city input about the needs of various communities or make recommendations to the City Council on issues such as development or public safety. In the coming months, WEHOville.com will run profiles highlighting the work of many of various commissions and advisory boards and their members.
The Disabilities Advisory Board
One board that has made an impact on WeHo is the Disability Advisory Board (DAB), which works to raise awareness about disabilities, to recognize the achievements of disability advocates, and to advise local government about issues related to disabilities and accessibility.
Among the DAB's accomplishments:
• Helped secure a $20,000 disabilities grant for the public library and gave input on how it should be spent. The funds were used on materials such as large-print and audio books as well as software to make reading and typing easier for those with limited vision.
• Played a key role in getting MTA to add a 704 bus stop near Plummer Park, which is used by a lot of seniors and people with disabilities
• Partnered with the Senior Advisory Board to host a public meeting about affordable housing in April
• Worked with the city to raise awareness during Disability Awareness Month each October, when the board also issued its annual Disability Service Awards
"They're a great board—really committed, enthusiastic, creative community members," said Corri Planck, the city staffer who serves as the DAB's liaison.
Planck said that the board was "instrumental in helping to secure the 704 (Express line) stop near Plummer Park."
"The DAB, among others, consistently and strongly advocated for that location for a number of reasons – primarily that the distance between the other Express stops (Fairfax and LaBrea) was challenging and that a number of seniors and people with disabilities access services at the Plummer Park community center. It is one of the great successes of the board that they were able to help make the case to Metro to secure it, and today our West Hollywood community members benefit from the DAB's advocacy and commitment," Planck said via e-mail.
Meet the Board
The West Hollywood residents who give their time as members of the DAB include:
• Jim Chud, DAB Chair
A longtime HIV advocate, Chud says that he's one of the longest-documented cases on record. It was 1977 when he first experienced symptoms of what would later be called HIV.
During his many years fighting HIV, Chud said that he's experienced a lot of "medical mishaps." Among them: meds that pooled and destroyed his cartilage, which left him unable to walk for some time and led to many operations.
He woke up from one of those surgeries and found himself alone in the room and unable to breathe. In what he calls a "hail Mary," Chud vowed that if he could take another breath he would spend the rest of his life helping people with HIV.
"Whether you believe it or not, it's been a motivator for me," Chud said.
Chud started volunteering with the DAB during a time that his health issues prevented him from working.
"I had to do something," he said. "My brain was going nuts. I'm not a person who can just sit around. It's not my way."
Far from just sitting around, Chud has continued to lead the DAB while re-entering the work force. He also serves on the board of the National AIDS Housing Coalition.
• Michael Arrigo, Vice Chair
An advocate for accessible public transportation, Michael Arrigo is especially proud of the DAB's role in the added 704 bus stop as well as the part it played in establishing audible pedestrian signals at crosswalks.
"The Disabilities Advisory Board was part of an overall city effort to pilot the audible crosswalks. The audible signaling increase the ease of use for our community members living with disabilities in navigating the crosswalks, and helps to increase their safety and quality of life," Planck said.
Arrigo relies on public transit himself because he is partially blind as a result of a rare hereditary condition called Leber's hereditary optic neuropathy. He still misses driving—which he was able to do for about four years before his vision deteriorated—but says he gets around pretty well. And he loves living in WeHo, where he has resided since the late '70s (before the city was incorporated).
Arrigo, who is HIV-positive and who has a background in radio and television, including a stint with the Arsenio Hall Show, worked with his late partner (Elliott Simmons, who died in 2009) to produce the WeHo public access channel series Living Well with HIV. For the series, they interviewed HIV-positive people and covered HIV/AIDS-related events such as AIDS Walk Los Angeles.
In addition to Leber's, Arrigo now has Parkinson's, which he says slows him down a little bit and affects his speech. But it hasn't wavered his resolve to advocate for people with disabilities.
He sees the DAB as a way to "speak up for those who cannot speak up and out" for themselves.
"We've really got a good board," Arrigo said. "We're going places."
• Marco Colantonio
A New Yorker by birth, Colantonio moved to WeHo in 2008.
"I was inspired by the activism, energy and accomplishments of openly HIV-positive Councilmembers John Duran and John D'Amico after being diagnosed HIV-positive on my birthday on January 27, 2012, and decided to apply to serve on a board or commission," Colantonio said via e-mail. "I met with Councilmember John Duran and when we talked about my status. He said, 'Don't let it define you.' Those words were life-changing, and that was a time hope began to return in my life. For me West Hollywood means many things, tolerance, acceptance and most of all hope."
A former restaurateur, Colantonio now manages several WeHo apartment buildings. He said that the DAB "has given a voice and hope and dignity to those living with HIV and other disabilities."
"Being on DAB and serving my city has given me a greater awareness of disabilities and insight to the innate courage and strength of the human spirit," he said.
• Anny Semonco
A WeHo resident since 1987, Semonco has served on the DAB on more than one occasion.
She previously resigned because her schedule at the WestwoodOne radio network, where she worked for 22 years, conflicted with meetings. After she was laid off, she re-joined the DAB.
In addition to serving on the DAB, she is on the design committee for the West Hollywood Park project and hopes that the pool and other facilities will be accessible for people with disabilities.
Semonco, who has had cerebral palsy since birth, was struck 20 years ago by a car that broke both her legs. She has used a wheelchair on an ongoing basis since 1995.
She's been pleased with the city's receptiveness to community input.
"They are very open to ideas, and they are very helpful," she said.
• Louise Smith
A resident since 1986, Smith moved to WeHo in order to be near her work at Cedars-Sinai Medical Center, where she managed the division of transfusion medicine. After retiring, she decided to stay put because she likes the city's commitment to being an inclusive place.
"I think they do some wonderful things," said Smith, who had polio many years ago and has used crutches ever since. In the '80s, she said, she became a wheelchair user.
She said the board is composed of "very enthusiastic" and dedicated people, and she's particularly proud of their work to get a Plummer Park bus stop added.
The DAB is trying to raise awareness about its work, Smith said, and will participate in some of the city's "pop-ups" in an effort to reach more people.
"I find the city very receptive, very concerned about its citizens," she said. "I sing its praises."
• Rick Watts
Rick Watts, who has been HIV-positive for 31 years, says he was never at Death's door—but at one point he was making his way up the steps. And he's come alarmingly close to homelessness.
Now healthier and housed, Watts spends a lot of time and energy helping the homeless and advocating for causes he believes in.
A nine-year WeHo resident, and a three-decade resident of the L.A. area, Watts worked at Sears for 22 years. After that, he has had some other jobs—but they didn't provide insurance, and health issues prevented them from being long-term.
When a two-week hospital stay related to his hip replacement led to the loss of two jobs, Watts was left unable to scrape together money for rent. Fortunately, a friend offered Watts a new place to live and some time to work out finances before asking for rent. And an area services agency helped Watts apply for disability benefits.
Watts says that he could have ended up under an overpass, and likely would not have survived, if not for "the grace of God, good friends and AIDS Project Los Angeles."
For about seven years, Watts has served on the DAB and counts the improved crosswalks, a "pet issue" of his, as a key accomplishment.
In addition to serving on the DAB, Watts volunteers for Project Angel Food, AIDS/LifeCycle and AIDS Walk Los Angeles. And over the years, he's prepared and given out some 400 or so meals to the homeless.
• Larry Block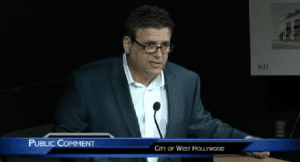 Business owner, City Council hopeful and longtime WeHo resident Larry Block has served on the DAB for about four years.
A few years ago, Block was en route to the gym when he noticed a blotchy spot that turned out to be a detached retina. Ultimately, he lost the vision in that eye.
"You lose an eye, and suddenly you can see all sorts of things to care about," Block wrote in an October op-ed for WEHOville.com.
Block says that in losing the use of an eye, he found his voice—and he lobbies unapologetically for what he's passionate about, including disability-related issues.
He points to the Disabilities Awareness Month banners as the DAB accomplishment of which he's most proud.
The banners, displayed along Santa Monica Boulevard each October, recognize the achievements of those who've been honored with Disability Service Awards in the past, as well as some iconic people with disabilities such as Helen Keller.
"It may seem really small, but it's really big in that it lets everybody know that we're a community that cares," Block said.
• Yola Dore
A new member of the DAB, Yola Dore joined the board in May.
"Being part of this important advisory board allows me an opportunity to utilize my work experience to help others," Dore said via e-mail. "My career afforded me an opportunity to be involved on many levels. I was a technical writer for Oil and Gas News, a public relations manager for Epi Hab LA, a non-profit that hired and trained disabled persons, and worked in Special Education for LAUSD. These jobs laid the foundation for my most important assignment, volunteering in my community! I am honored to participate with an amazing group of people, in a city I've called home for over 20 years."
• Suzanne Dietrich
For Suzanne, , it all started in the '90s with Ficus trees. They were buckling WeHo sidewalks, she said, and making it difficult for seniors and people with disabilities to navigate—so she'd "just take them by the arm" and guide those who were having trouble.
When she realized that the city had a Disabilities Advisory Board, she went to talk to them about the problem. She was invited to join the DAB in 1999, and she has been a member ever since—the longest-sitting member to serve continuously. A breast cancer survivor, Dietrich said that the board "always worked with me" when she had to miss meetings as she fought the cancer. (Diagnosed in the late '90s, Dietrich relocated from the Berkeley area in order to get the medical care she needed.)
"I'm very into helping people," said Dietrich, whose varied professional background includes work in public safety.
"I believe that we as board members have made life better for people living with disabilities."
The DAB meets at 6 p.m. on the fourth Wednesday of each month at the Plummer Park Community Center (rooms 5 and 6). Meetings are open to the public, and people with concerns about issues related to disabilities are welcome to raise their concerns with the board.