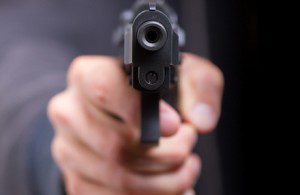 Sheriff's detectives are investigating whether there is a connection between the series of drive-by shootings that killed three people within an hour in the northern San Fernando Valley and a shooting Friday in West Hollywood.
A man and a woman were uninjured in the shooting at 11 p.m. Friday at Gardner Street and Santa Monica Boulevard that shattered the rear window of their pickup truck, said Sgt. Keith Ho of the sheriff's West Hollywood Station.
The victims first noticed a tan or gold Chevrolet SUV next to their vehicle as they passed the Hollywood Bowl southbound on Highland Avenue, then saw it behind them with its headlights off on Santa Monica Boulevard, Ho said.
The SUV drove next to them on the passenger side when they turned onto Gardner Street and someone inside fired three rounds from a shotgun at the victims' pickup truck, shattering the rear window and damaging the truck bed, he said.
"They haven't connected the dots yet," Ho said. Detectives are sharing information with their LAPD counterparts. "We would like any witness to come forward to help," he said.
Meanwhile a Sylmar man was in custody as a "person of interest" in Sunday's shootings that left three dead. However, Alexander Hernandez, 34, was booked only on suspicion of animal cruelty for allegedly shooting and killing two dogs on Saturday, and was held on $1 million bail, according to Los Angeles police Officer Liliana Preciado of the Media Relations office.
Police still declined to label Hernandez a suspect in the three fatal shootings — classifying him only as a person of interest in the crimes — but Preciado said no other suspects are being sought.
Police had said earlier that two suspects were being sought in the case, and they were believed to be in a tan or gold-colored SUV, possibly a Chevrolet Suburban or Tahoe. Police said the "manner and timing" of the shootings led investigators to believe the shootings were related.
Coroner's Assistant Chief Ed Winter said a "security hold" had been placed on the case, precluding his office from releasing the names of the dead.
Hernandez was taken into custody about 9:15 p.m. Sunday after he barricaded himself inside a residence in the area of Polk Street and Kismet Avenue for about an hour, police said. He was initially taken to a hospital for treatment of minor injuries, said Capt. William Hayes of the LAPD's Robbery Homicide Division.
Leads gathered by investigators, including the description of the vehicle believed to have been used in the shootings, brought police to the home where Hernandez had holed up, authorities said.
The first attack occurred about 5:50 a.m. Sunday in the 1400 block of Celis Street in San Fernando, where three of five family members inside an SUV were struck by gunfire, according to Sgt. Frank Preciado, also of the LAPD's Media Relations Section.
A woman died at the scene and two people were injured, one of them seriously, according to the LAPD. The San Fernando Valley Sun identified the deceased woman as 22-year-old Mariana Franco and the wounded as her parents, Jose and Beatriz Franco, both Eucharist Ministers at Santa Rosa Catholic Church. Mariana Franco was in a wheelchair, according to various media reports. Two children in the SUV were unhurt, according to The Sun.
Los Angeles County Sheriff's Lt. John Corina said the family's vehicle had pulled over to allow an erratically driven SUV to pass, but the driver of the SUV came alongside the family's vehicle and shots were fired from inside.
At 6:30 a.m., a man between 25 and 35 years old was shot at the Sylmar Recreation Center in the 13000 block of Borden Avenue and died at the scene, according to the LAPD. Police said the man had been collecting recyclables in the area and was shot while walking.
Then, at 6:45 a.m., a woman was shot in the head in the 12900 block of Filmore Street in Pacoima and died at the scene, police said. She was identified by family members as Gloria Esperanza Tobar. Her daughter, Lucia Montano, told reporters her mother was a Eucharist Minister at Guardian Angel parish in Pacoima. She was shot while waiting to take someone to church.
A possible motive for the shootings has not been released. Anyone with more information about the case is urged to call (877) LAPD-24-7.
Police have also said they were investigating whether Sunday's shootings may be related to earlier attacks.
"What the detectives will do is look back in time and look at the shootings that occurred and see if there's anything with a similar M.O. or set of circumstances," Cmdr. Andrew Smith told the Los Angeles Times. "They'll have people dig back as far as it takes."
On Thursday morning, a man was shot to death as he drove a pickup truck near Glenoaks Boulevard and Vaughn Street in Pacoima. One day earlier, a woman was shot and wounded as she was driving on Colorado Boulevard east of the Golden State (5) Freeway in the Atwater Village area.