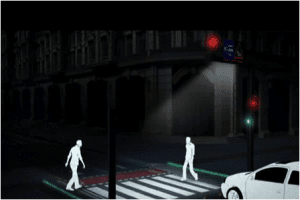 In the latest step toward addressing concerns about pedestrian crosswalk safety, the city's Transportation and Public Safety Commissions met tonight for a briefing on the city's proposed "Education, Enforcement, Engineering" campaign and to discuss recommendations it might make to the City Council.
The meeting was in response to a request by the City Council, which on Sept. 8 asked that city staff members develop a plan for installing pedestrian-activated stoplights at all crosswalks on Santa Monica Boulevard between La Cienega and San Vicente. Those stoplights would be synchronized with stoplights at traffic intersections to reduce their impact on traffic flow.
The Council also asked city staff members to study all of the city's crosswalks, with an eye to improving their safety or even consolidating them. And it asked that they develop an crosswalk safety enforcement and education program.
The Council's request followed a series of recent pedestrian accidents on Santa Monica Boulevard, the most serious of which resulted in the death of Clinton Bounds, a well-known figure in the city's gay bar district, when he was hit by a car on Aug. 22.
Melissa Antol, the city's long range mobility and planning manager, took the commission members through a presentation that included data on pedestrian accidents since 2011 provided by the West Hollywood Sheriff's Station and a series of options developed with the help of Fehr and Peers, an urban transit consultant.
Fehr and Peers presented three options, each of which had some disadvantages:
1) Eliminate unnecessary crosswalks and install traffic signals on the remaining ones. Steve Brown, a Fehr and Peers consultant, said that would force some pedestrians to walk out of their way to get to a crosswalk and increase traffic delays on Santa Monica Boulevard because of the additional stoplights.
2) Leave the existing crosswalks in place but make them more visible by adding flashing beacons, extending the sidewalk into the street at the crosswalk or adding more lighting. Another option would be to allow pedestrians to cross with a green light at a traffic intersection for a few seconds before the light went green for motorists. But Brown noted that crosswalks without stop signals would still be risky and that adding various lights or other safety measures to all of the existing crosswalks on Santa Monica Boulevard would be expensive. Brown also noted that this option might cause more traffic delays than the first.
3) Make it harder for pedestrians to cross Santa Monica Boulevard outside of crosswalks by installing barriers or fences in the boulevard's medians. Brown said such barriers might restrict emergency access, be unattractive and be seen as obstacles for certain public events, such as the annual Gay Pride Parade and Halloween Carnaval that take place on Santa Monica Boulevard.
Bob Cheung, the city's senior transportation planner, said other options that might be considered include reducing the number of lanes on Santa Monica Boulevard and restricting turns during weekend evenings, using crossing guards at key intersections during weekend evenings, installing raised pavement markers at crosswalks and installing crosswalk flags and installing lighted signs that would project a pedestrian safety message.
Lisa Belsanti, the city's public information office manager, outlined a series of education initiatives that include producing a public safety video today starring Todrick Hall, a YouTube phenomenon (with more than one million followers) known for videos such as "Mean Gurlz," "The Wizard of Ahhs," and a safety video for Virgin Airlines that has gotten international attention. The hope is that the city's public safety video also will go viral.
Other proposed education initiatives include distributing already produced pedestrian safety brochures and cards, installing street banners and signs and launching an advertising campaign to alert pedestrians and motorists to safety issues.
Lt. David Smith of the West Hollywood Sheriff's Station told commission members that deputies have undertaken several campaigns to enforce pedestrian safety laws. The most recent was last Thursday, when he and another deputy in civilian clothing monitored various crosswalks from 7 p.m. to 1 a.m. Smith said they issued 93 citations, with 80 to motorists for failure to yield to pedestrians and four for driving while using a cellphone.
Smith said it is essential for pedestrians to keep an eye on drivers, who might not see them. "When I walked down the street I made sure I made eye contact with drivers," he said. "If you just jump out in the street when it is unsafe, you can be cited. Make eye contact and make sure you look both ways."
The Public Safety and Transportation commissions agreed to appoint their respective chairs and vice-chairs to a subcommittee that will work with city staff members to refine a proposal for action by the City Council at its meeting on Oct. 6.