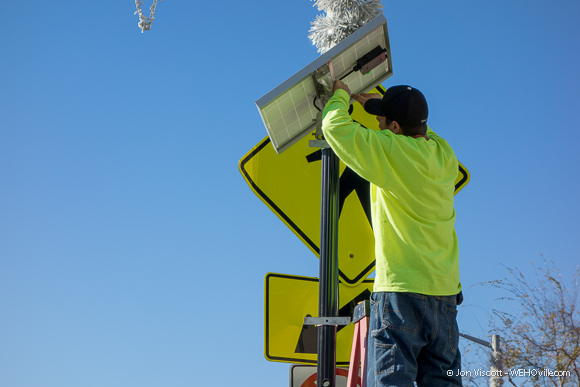 City staffers have developed a wide-ranging $1.2 million plan to deal with pedestrian crosswalk safety on Santa Monica Boulevard that will be presented to the West Hollywood City Council on Monday.  The plan was developed at the request of the City Council with advice from the city's Public Safety and Transportation commissions after several pedestrians were hit by cars.  The death in August of Clinton Bounds, a well-known figure in West Hollywood's gay nightlife community, while crossing Santa Monica Boulevard on foot sparked a public demonstration and demands at the Council meetings for action.
Between La Cienega and San Vicente boulevards
The plan calls for installing a stoplight at the very busy crosswalk on Santa Monica Boulevard at Westmount, where pedestrians often stroll across inattentive to cars driving through. With the stoplight, pedestrians will not be able to enter that crosswalk until a light turns red to stop automobile traffic.
A stoplight also will be installed at the crosswalk on Santa Monica Boulevard at Hancock, near which Clinton Bounds was hit by a car and killed while apparently jaywalking.
The city plan recommends combining existing crosswalks on Santa Monica Boulevard at Orange Grove and Ogden into one mid-block crosswalk between the two intersecting streets. A pedestrian-activated warning light would be installed there.
Those safety measures will cost an estimated $893,000.
Other proposed changes, endorsed by a joint meeting of the city's Transportation and Public Safety commissions in September, call for:
Installing a pedestrian-activated signal at the crosswalk on Santa Monica Boulevard at West Knoll.
Perhaps permitting left turns onto Santa Monica Boulevard from Westmount once the light is installed at that crosswalk. Currently drivers headed south down Westmount can only make a left turn onto Santa Monica Boulevard.
Converting an opening in the traffic median on Santa Monica Boulevard between West Knoll and Westmount so that it will allow drivers headed west on Santa Monica to make a left turn and head east. Currently the opening allows eastbound drivers to turn west.
Possibly prohibiting left turns onto Santa Monica Boulevard from cars headed north on Westbourne.
Relocating the pedestrian crossing at Hancock to the west side of its intersection with Santa Monica Boulevard.
Installing a new pedestrian crossing signal on Santa Monica Boulevard at Palm.
Implementing all of the safety measures is estimated to cost $1.2 million.
Between Fairfax Avenue and Ogden Drive
The plan calls for consolidating existing pedestrian crossings and installing a midblock traffic light on Santa Monica Boulevard between Fairfax and Ogden. The estimated cost for that is $110,000.
As short-term solutions, the plan recommends:
Purchasing three more lighted mobile signs to warn drivers to be aware of pedestrians in crosswalks.
Reprogramming stoplights at Santa Monica Boulevard at San Vicente and at Robertson so that they offer a brief pedestrian crossing period before automobiles are allowed to move through the intersection.
 Installing pedestrian crosswalk signs at crosswalks such as those at Palm, Hancock and Orange Grove until permanent fixes are made.
Raising the pavement at the Santa Monica crosswalks of Palm Avenue, Hancock Avenue, Westmount Drive, West Knoll Drive, Orange Grove Avenue and Ogden Drive to further alert drivers.
Those short-term solutions are estimated to cost $77,000.
Other efforts planned include a crosswalk surveillance operation by the West Hollywood Sheriff's Station on Thursday during rush hour and a public awareness campaign that will include brochures, advertising, signs and a social media campaign. The city is considering using 3-D street art as part of the campaign. It already has commissioned a video by noted YouTube artist Todrick Hall that is expected to be released the middle of this month.
The City Council is expected to consider the plan at its meeting at 6:30 p.m. Monday at the City Council Chambers at 625 N. San Vicente Blvd., south of Santa Monica.