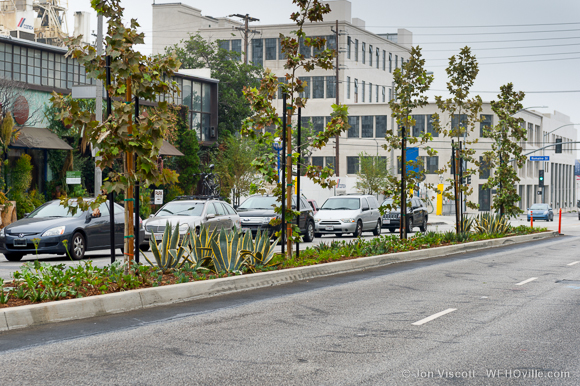 West Hollywood's La Brea Streetscape Project has been named the Community Improvement Project of the Year by the Los Angeles Section of the American Society of Civil Engineers (ASCE). The award will be presented at an awards ceremony on Nov. 5.
The La Brea project involved improvements to the street between Fountain Avenue and Romaine Street. The city widened sidewalks and added 40 new street trees, three medians and 20 blue streetlights.
"The city of West Hollywood is proud of its La Brea Streetscape Project," says a project description provided by the city. "Although that portion of La Brea Avenue in our city is only three blocks long, combined with Santa Monica Boulevard, these transit corridors are part of the most heavily used arterial streets in the region. Therefore it has always been a goal to make this area a gateway to welcome all to the city of West Hollywood.
"With partial funding from the Los Angeles County Metro Authority, the city was able to transform this street with lots of concrete sidewalks and very little greenery, into a beautiful streetscape that is great for motorist, transit riders, and enhances the pedestrian experience on La Brea Avenue. From the very beginning of design the city decided to use this project as a trial for sustainable design features that we would like to use elsewhere in our city."
The description notes that the project used permeable walking surfaces to facilitate water going back into the ground, and water-efficient plants were incorporated.
In an e-mail to city staff, WeHo city engineer Sharon Perlstein highlighted the achievement.
"This is no small achievement as the Los Angeles Section of ASCE encompasses the counties of Los Angeles, Orange, Ventura, Santa Barbara, San Luis Obispo, Kern, Riverside, San Bernardino, Inyo, and Mono," Perlstein said. "The project is now nominated to compete for the statewide ASCE award."