Maybe Lisa Vanderpump should shop at Ralph's?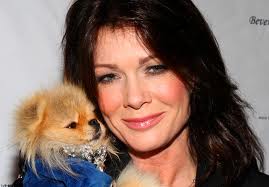 The reality TV star ("The Real Housewives of Beverly Hills," "Vanderpump Rules") riled up some shoppers at the West Hollywood Pavilion's yesterday when she showed up with a film crew and pretended to be shopping.
Shoppers contacted WEHOville to complain. And several celebrity gossip websites chronicled what appears to have been a bit of a public relations disaster for the store, which is owned by the Safeway grocery store chain.
"I told the general manager that I will no longer shop here if Lisa VanderPhony gets to come here with a film crew and pretend she's one of us!" said one shopper quoted by Highlight Hollywood. "Outrageous. This reality TV stuff is staged!"
"She came storming in here like the Queen of England with a film crew," said another shopper. Didn't even tell us she was coming, was driven into the parking lot, jumped out with her daughter and brought the crew in here, then out the door, she had to ask her daughter for the money to purchase the items, that shows how prepared she was to shop here."
Highlight Hollywood reported that several shoppers walked out of Pavilions in protest, leaving carts packed with food behind. Pavilions, at 8969 Santa Monica Boulevard, diagonally across the street from P.U.M.P., Vanderpump's relatively new gay-oriented bar and restaurant, is known as among the gay crowd as a place to flirt while shopping.
A previous Vanderpump shopping excursion at Pavilions resulted in a few broken eggs. Radar Online reported that a customer threw two eggs at Vanderpump when she visited the store in September of last year (both missed their target).
"A girl threw two eggs at Lisa! They totally missed her but that girl didn't care. She wanted to make a point to Lisa that she isn't welcome in West Hollywood," said a shopper interviewed by Radar.
It seems Vanderpump also wasn't very welcome at West Hollywood's Gelson's grocery store when she and her daughter Pandora appeared to promote Vanderpump's LVP Sangria drink, with a few shoppers yelling at her to leave.
Vanderpump and her husband, Ken Todd, live in Beverly Hills. Their restaurant there, Villa Bianca, is up for sale following a successful lawsuit by an employee who alleged she was sexually harassed by the restaurant's manager. She was awarded $100,000. The restaurant also is facing a lawsuit by a food vendor for failing to pay its bill. Documents filed in the sexual harassment lawsuit show the restaurant has been financially troubled.
In West Hollywood, Sur, Vanderpump's restaurant on Robertson Boulevard near Melrose, has been the setting for "Vanderpump Rules," which chronicles the lives of its young and pretty employees and the affairs they are having with one another. It is known for attracting reality TV fans.
Last year Vanderpump opened P.U.M.P. in the heart of West Hollywood's Boystown, with the intention of attracting a stylish gay crowd. Vanderpump and Todd are dealing with a lawsuit over that property, which is on the southeast corner of Santa Monica and Robertson boulevards, by two men who claim that they already had the right to lease it.
P.U.M.P. is next door to Mother Lode, one of West Hollywood's most popular dive bars, one of whose bartenders has described Vanderpump and Todd as "neighbors from hell." Bartender Josh Romine told Radar that his neighbors had described the Mother Lode crowd as "riff raff" and that the couple tossed a receipt at him and laughed while walking by one day and on another occasion tossed a nickle his way.
It's not clear how long Vanderpump and Todd will be laughing. P.U.M.P. appears relatively empty most nights despite efforts by the couple to attract a gay crowd. During last year's Gay Pride, shortly after P.U.M.P. opened, they collaborated with Frontiers magazine on an event that won Vanderpump a glowing cover profile in the magazine. But Frontiers these days seems not to be attracting much of a gay crowd either. Its last few issues, at 68 pages each, are the smallest in its modern history, reflecting a significant decline in advertising. P.U.M.P. now is promoting its "Big Gay Brunch" on Sundays and recently engaged veteran gay party promoter Jeffrey Sanker to stage Giggy Tuesdays, a night of discounted cocktails named after Vanderpump's Pomeranian.