A city known for its, ahem, queens, will crown an official one on Halloween night.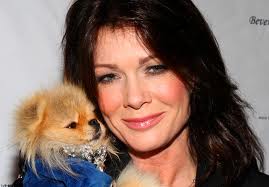 The City of West Hollywood has announced that Mayor John D'Amico will crown Lisa Vanderpump, the reality TV celebrity, as queen of the annual Carnaval. Vanderpum, who owns P.U.M.P. and SUR restaurants in West Hollywood, has appeared on "The Real Housewives of Beverly Hills" and "Vanderpump Rules," both reality shows on the Bravo network.
The crowning ceremony will be part of what is billed as the world's largest Halloween party, which the city estimates attracts as many as 500,000 people to West Hollywood for the evening. The event also is the city's most expensive, costing an estimated $900,000. Council members, including D'Amico and Jeffrey Prang, have raised questions about its value to West Hollywood. Prang has noted that Carnaval produces little revenue for the city or for local business, with the exception of local bar owners, because most attendees do not stay overnight. D'Amico has noted that the event no longer has the gay community vibe it once did. The city launched Carnaval in 1987, only three years after its founding.
This year's Halloween Carnaval will celebrate the Greek mythological figure Medusa, celebrated for her charms and long flowing hair, which inspired Neptune's love, and whose locks were changed into serpents. The Carnaval will take place on Oct. 31 from 6 p.m. to 11 p.m. on Santa Monica Boulevard between Doheny Drive and La Cienega Boulevard. Children and pets are discouraged from attending because of the dense crowds.
The coronation ceremony will take place at 9:30 p.m. at the San Vicente stage located at intersection of Santa Monica and San Vicente boulevards.
That is one of several stages at intersections with Santa Monica at which various bands or DJs will perform.
The Almont Stage, "the Garden of Evil," will feature Kyle Nudo, returning ringmaster of the Halloween Hullabaloo, featuring dance, spooky songs, and daring aerialist acts. High-energy band Jessi Jae and The Ruckus will perform as well.
The La Peer stage will feature DJ Skruffeh, one of the founders of today's Southern California Hardstyle scene, and DJ Lady Killer and DJ Kitsch.
"Medusa's Lair," the San Vicente stage, will be emceed by Jeffrey Damnit and include performances by the bands The Toledo Show, a seductive, gritty, feast with Femme Fatale Dancers; Ricky Rebel, former lead singer of No Authority, and acid/soul-singer/songwriter Marley Monroe.
Comedic Latina drag queens Chico's Angels will emcee the Palm stage, where Michelle Pesce will DJ and mix the flavor of hip hop with rock, funk, and pop while keeping an old school vibe.
The Westbourne stage, will be emceed by comedian Ant with DJ Tekki Traxx, who spins tracks like Tiesto and David Guetta.
Emcee Peter Vogt will host the West Knoll stage, "Potions & Spells", where Big Band, Indie Rock, and "Nightmare Pop" will converge in a performance by Noah and the MegaFauna. LA-based Dario Black, a recording artist from South America, also will be on stage.
The City is inviting Carnaval-goers to show off their costumes by uploading photos to social media sites with the hashtags #wehohalloween and #wehocarnaval. There will also be "Eventstigrammer" stations on the Carnaval route to capture photos for display at www.instragram.com/wehocarnaval.
Live streaming of the Halloween Carnaval will be made available via the web and on the City's WehoTV channel. WehoTV programs are available to Time Warner Cable customers within the City of West Hollywood on channel 10. AT&T U-verse customers across Southern California can access WehoTV on channel 99. Programming will also be accessible at www.youtube.com/wehotv.
Various streets will be closed on Oct. 31 and the next morning because of Carnaval. Main closures are San Vicente Boulevard between Santa Monica Boulevard and Melrose Avenue from midnight on Oct. 31 to 7 a.m. on Nov.1 and Santa Monica Boulevard between Doheny Drive and Croft Avenue and Holloway Drive from noon on Oct. 31through 6 a.m. the following morning. Additional street closure information is available on the City's website at Halloween Street Closures.
The City will suspend permit parking restrictions for Halloween Carnaval from 11 a.m. on Oct. 31 to 6 a.m. on Nov. 1. Carnaval-goers are reminded to observe the boundaries of West Hollywood. If parking occurs in the City of Los Angeles or in the City of Beverly Hills, all parking restrictions must be observed.
Paid public parking will be available at lots throughout the City for a fee; lot location and price information is posted on the City's website page at Halloween Parking.
A free, safe, and easy way to get to the Halloween Carnaval is the PickUp, the city's free evening party shuttle, which will have a special route and schedule for the occasion. On Oct. 31, the PickUp will run approximately every 15 minutes on Santa Monica Boulevard and stop at all Metro stops between Sweetzer Avenue and Plummer Park (Fuller Avenue). PickUp service will run from 8 p.m. to 3 a.m. The trolley will travel in a loop until 11 p.m.; then it will only travel eastbound from 11 p.m. to 3 a.m. During the day, there will be an amended schedule and route for the city's free Cityline shuttle. More information about Halloween Carnaval is available on the city's website.