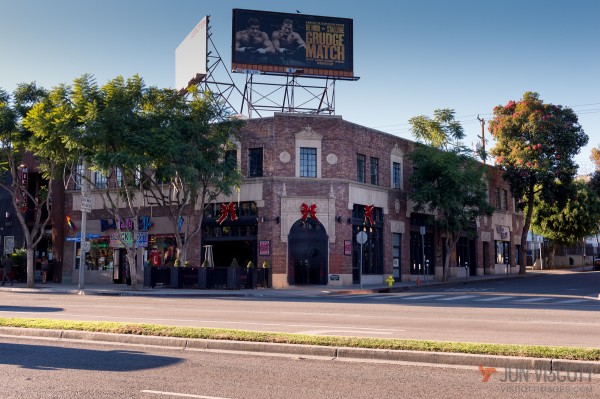 Faced with new allegations that he has stolen money from Revolver Video Bar, Alfredo Diaz has given up his position as managing partner of Loaded Gun LLC, the company that owns the West Hollywood gay bar. Chris Miller, who like Diaz owns 44.5 percent of Revolver, is now president of Loaded Gun and is managing Revolver. The move was confirmed to WEHOville by Robert Barta, Miller's lawyer.
Diaz's decision brings to an end a heated battle between him and Miller, who is co-president of Flower Films, Drew Barrymore's production company. Miller sued Diaz in April alleging he misappropriated money from the bar. That case originally was set to go to trial on Nov. 10.
However on Tuesday, Miller and Kenneth Linzer and Ofir Lang, who own 9.7 percent and one percent of Loaded Gun respectively, petitioned the U.S. Bankruptcy Court to immediately remove Diaz as manager and allow them to change the locks on the bar's doors and change passwords on its various accounts so Diaz would not have access to them.
In the petition, Miller describes a scheme in which he alleges that Diaz and his husband, Mike Stommel, contacted Viking Funding Group in New York in July to arrange a $65,000 loan for Revolver and then diverted the money to themselves. Diaz likely was having personal financial difficulties at the time, given that on Oct. 22 he filed for personal bankruptcy, listing debts of between $1 million and $10 million and assets of $500,000 to $1 million.
Viking had an existing relationship with Revolver, having advanced the bar money on two previous occasions to pay its bills until revenue from credit card charges by customers was cleared by the card processors. That revenue went to Viking to repay its loan to Revolver.
Miller alleged that Stommel, a publicist who represents Christopher Street West, organizer of the annual L.A. Pride Festival, represented himself to Viking as Miller, whose agreement was required for Revolver to receive another loan from Viking. His petition says that Diaz and "presumably Stommel" provided Viking with a cell phone number that they said belonged to Miller but that actually belonged to Stommel. Miller said the two also created a fake email address for Miller to use in the transaction.
Miller said Diaz asked Viking to use $23,000 of the new loan to pay off the remaining balance on a previous Viking loan to Revolver. "Diaz, presumably with the participation and knowledge of Stommel, then converted Revolver's $42,000 from the loan to their personal use and their personal benefit," Miller alleged. He said Diaz did that by asking Viking to transfer the $42,000 into an account at AmericaWest Bank, which he and Stommel said belonged to Revolver. Revolver, however, only has an account at Chase. Miller alleges Diaz steered more money his way by ending the practice of directing credit card payments to Viking. The result, he said, is there have been no payments on the $65,000 loan, a debt that grew as interest charges accumulated. "The credit card payments belonging to Revolver are apparently being stolen, presumably by Diaz," Miller's petition alleges.  Neither Diaz nor Stommel has responded to requests from WEHOville for comment on Miller's allegations.
Miller said that Revolver now is delinquent on $350,000 in sales taxes that Diaz failed to pay the state and that Diaz failed to pay worker's compensation insurance premiums, leaving the bar's workers without the coverage required by law for possible injuries at work.