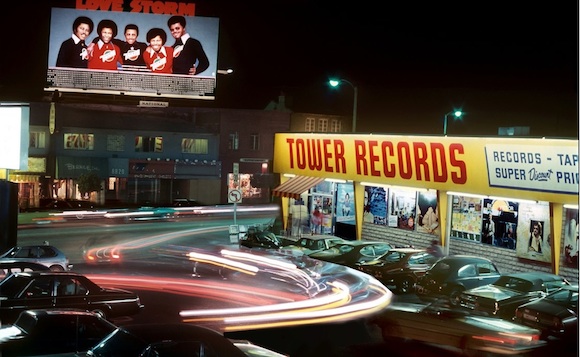 While some are suggesting that The Strip is evolving from a center for rock 'n roll into a hotel district, Gibson Brands has taken a big step toward branding it Guitartown.
The Nashville-based guitar manufacturer has announced that it signed a 15-year-lease on the former Tower Records building on Sunset Boulevard and will renovate it for a grand opening by the end of the year.
Gibson already has a presence on The Strip with its Guitartown. That public arts project launched in 2010 with two dozen 10-foot-tall guitar sculptures placed along Sunset Boulevard for five months honoring various musicians, artists or others tied to The Strip's history as a center of rock 'n roll. The Guitartown exhibit has continued every year since then, with the sculptures eventually auctioned off and the proceeds donated to charity.
Gibson's decision is somewhat of a victory for local residents such as Jerome Cleary and Dominic Priore, a rock music historian, who have argued for preservation of the Tower Records building as a cultural resource. Built in 1971 at 8801 Sunset Blvd., it became a destination for musicians who played at nearby clubs. It closed when Tower Records filed for bankruptcy in 2006.
"The store was legendary," said Priore. "Tower was where the buzz was. It was such an important part of the rock 'n' roll scene. The Sunset Strip was the center of rock 'n' roll back in the day and that store was the center of the music industry."
Last year the West Hollywood City Council rejected a request by Cleary to have the building declared a cultural resource. In doing so it affirmed a similar decision by the city's Historic Preservation Commission. The commission reasoned that the building, now painted white had not retained its "integrity," which was defined by the ever-changing signs advertising albums on the building's red and yellow façade.
Sol Barket, a Chicago-based developer, owns the property and had planned to tear down the Tower Records building and replace it with a three-story office building containing a branch of David Barton Gym. When he was unable to get approval from the city for his plans, Barket searched for a rental tenant.