Sam Nazarian, whose SBE Entertainment Group is owner of The Abbey in West Hollywood, has confessed to drug use and participating in an extortion scheme according a story published by the Wall Street Journal.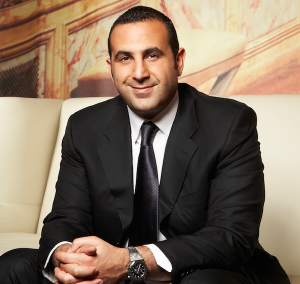 The Journal story, published this afternoon online, said Nazarian's revelations came in testimony before the Nevada Gaming Control Board, from which Nazarian was trying to obtain a casino license. Nazarian has been partnering with Stockbridge Capital Partners in the SLS Las Vegas hotel and casino, an $800 million project that opened last summer. A former resident of Beverly Hills, Nazarian now has moved to Las Vegas. Because of the drug use and extortion revelations, Stockbridge announced today that Nazarian would no longer be involved in management of the new SLS hotel. He, his family and SBE will, however, be allowed to keep their 10 percent stake in the hotel, and SBE will continue to manage its restaurants and nightclubs.
According to a report by the Las Vegas Review-Journal, Nazarian told the Gaming Control board that he had loaned money to Derrick Armstrong, a Los Angeles automobile dealer who he met in 1999. After their friendship ended in 2005, Armstrong, a convicted felon, began to extort money from him, Nazarian said.
Nazarian said he also paid $90,000 to Suge Knight, the founder of Death Row Records and the victim of a shooting in August at West Hollywood's 1 Oak nightclub, because of his connection to Armstrong. And he said he paid $83,000 to Hai Waknine, an Israel-born mob figure.
Nazarian's drug use surfaced in a test this spring that the Gaming Control Board administers to some applicants for casino licenses. He told the board that he had used cocaine during a trip to Cabo San Lucas in April. He said it was a one-time incident and that he hadn't used drugs in many years.
The Gaming Control Board recommended that Nazarian be granted a limited one-year casino license instead of the full license he was seeking and that he be subject to random drug tests and not be involved in management of the casino. Its recommendation goes before the Nevada Gaming Commission on Thursday for a final decision.
Nazarian, 39, was born in Iran in 1975 and immigrated with his family to the United States after the Iranian Revolution. He is the founder of SBE, which, in addition to properties in Las Vegas, owns hotels, nightclubs and restaurants in Miami and Los Angeles. In addition to The Abbey, which SBE acquired from founder David Cooley, its LA properties are the Hyde Sunset nightclub on the fringe of West Hollywood at 8117 Sunset Blvd. and Greystone Manor, also just outside of West Hollywood at 643 N. La Cienega Blvd.
Representatives of SBE declined to comment on Nazarian's situation.