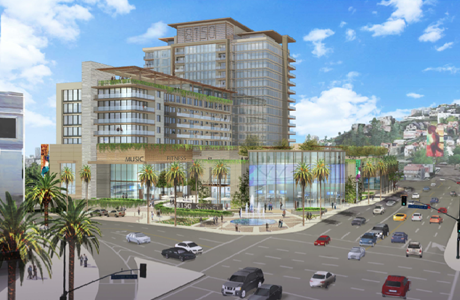 CORRECTION:  The following story has been corrected to note that West Hollywood City Councilmember John Duran did not vote against a proposal that the city ask a joint committee of the state legislature to deny immediate approval of a request by Townscape Partners. In fact, Duran abstained from that vote, telling his Council colleagues that the proposal had come before them so late that he didn't have time to adequately analyze it. WEHOville regrets the error.
The controversial project proposed for 8150 Sunset Boulevard on the northern border of West Hollywood is likely to have an impact on traffic in WeHo according to a study commissioned by the project's developer.
The study, by Hirsch Green Transportation Consulting, projects a delay of 1.3 minutes per vehicle during evening rush hours at the intersection of Havenhurst Drive and Fountain Avenue in 2018, by which time the project is expected to be completed.
Fountain already is congested from 5 p.m. to as late as 7 p.m. by motorists seeking to avoid congestion on Santa Monica Boulevard to the south. The Hirsch Green study says between 33,500 and 35,000 cars travel each day in both directions on Fountain between Sweetzer Avenue to the west and Fairfax Avenue to the east.
Havenhurst Drive, dominated by multi-family residential buildings, now has an average of just over 1,800 vehicles per day. The study doesn't see much impact from the project on Havenhurst traffic from the project's restaurants and shops, noting that cars cannot enter the commercial parking structure from Havenhurst and those exiting onto Havenhurst may only make a right turn toward Sunset. However, it says that 60 percent of the traffic from residents coming into the project is likely to enter the driveway on Havenhurst Drive. Those leaving the residential parking structure will only be allowed to make a right turn, taking them to Sunset Boulevard. If headed south, those residents are likely to swing around the block and drive south on Crescent Heights, the study says.
The study predicts only very minor delays at 14 other West Hollywood intersections such as Sunset and La Cienega boulevards and Fountain and Sweetzer avenues. Hirsch Green recommends that a traffic light be installed at the Havenhurst / Fountain intersection to reduce traffic wait time there.
Increased traffic is only one of several issues raised by nearby residents of West Hollywood who are opposed to the project, which sits within the boundaries of Los Angeles. The 2.6 acre site is bordered Sunset Boulevard on the north, Havenhurst Drive on the west and North Crescent Heights Boulevard on the east. Havenhurst and North Crescent Heights, which are within West Hollywood's borders, are the site of a number of condominium and apartment buildings.
At a meeting with Townscape Partners in September 2013, area residents also aired concerns over the project's impact on available parking, on the demolition of the Chase Bank building on the project site, which some see as having historical qualities, and on the impact of a 16-story apartment building along Havenhurst.
The 8150 Sunset project would include approximately 111,339 square feet of commercial retail and restaurant space on three lower levels (one of them underground) and one rooftop level. In addition, it would include 223,000 square feet of residential space, with 249 market rate apartments and 28 apartments for low income people. Among the amenities it would offer residents is a private pool about 7,000 square feet of space devoted to a fitness center, lobby, library and business center. The 849 parking spaces would be housed in a seven‐level structure, three of whose levels would be almost or completely underground.
The recently released draft environmental impact study of the project projects a 17 percent increase in overall traffic because of it, with 6,373 trips per day, including 231 trips during the morning peak hour, and 565 trips during the evening peak hour. Of those trips, nearly 5,000 are projected to come from visitors to the projects shops. The shopping center now on the site generates about 5,296 daily trips, including 313 trips during the morning peak hour, and 349 trips during the evening peak hour according to the environmental review.
In its lengthy fight to get approval for the project Townscape was successful in having the state give it a special status that would protect it from a prolonged legal battle with residents who oppose it. That status also would bar local agencies from considering the aesthetic or parking impact of the project in deciding whether to approve it.
Townscape has asked that the project be designated as an "environmental leadership development project" (ELDP). That designation means the local agency evaluating the project can't consider its impact on parking or aesthetic issues such as whether it creates increased glare or blocks the view of public spaces. It also stipulates that any lawsuits regarding the project must be resolved within 270 days.
The West Hollywood City Council last May asked a joint committee of the state legislature to deny Townscape's request in a five to one vote. John Duran abstained from that vote, telling his Council colleagues that the proposal had come before them so late that he didn't have time to adequately analyze it. Duran has been a major recipient of campaign donations for his last City Council race and his unsuccessful race last summer for a seat on the L.A. County Board of Supervisors from Townscape and one of its partners, Tyler Siegel. Duran also has spoken in favor of Townscape's controversial 8899 Beverly project. The Council in September asked city staff members to work with Townscape to explore the possibility of reducing the size of the project, which would more than double a building that already exceeds the size permitted by the city's zoning ordinance.
The Hollywood Hills West Neighborhood Council Planning, Land Use & Management committee will hold a public meeting to discuss the draft environmental review plan at 6 p.m. tomorrow at the William & Ariel Durant Public Library at 7140 Sunset Blvd.