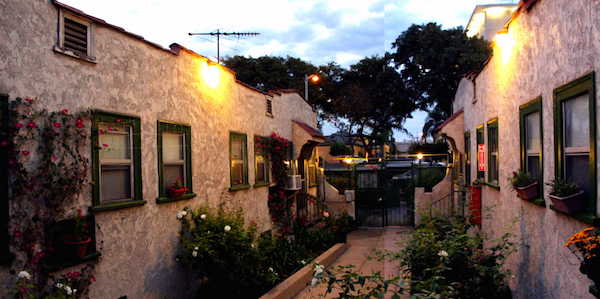 Some residents of the Detroit Bungalows are mounting a campaign to prevent the 1920s era buildings from being demolished and replaced by a larger building that will house low-income and other disadvantaged people.
The group launched a Facebook page called "Save the Detroit Bungalows" this week. Dr. Love, a resident of the 10-unit complex, is an organizer of the campaign. (Dr. Love declines to reveal her first name, preferring to be referred to as "Dr. Love.") Dr. Love said she also is reaching out to members of the West Hollywood City Council and historic preservation advocates.
The Detroit Bunglows now is owned and managed by the West Hollywood Community Housing Corp., a non-profit organization that builds and rehabilitates housing for low-income and other disadvantaged people WHCHC currently has 17 apartment complexes with 341 units in West Hollywood, Glendale and Los Angeles.
With the help of a $1 million loan from the City of West Hollywood, WHCHC recently purchased the property next door at 1123 and 1127 N. Detroit St. with the intention of combining it with the Detroit Bungalows site. Robin Conerly, WHCHC's executive director, said the organization hopes to build a 22-unit building for people living with HIV, homeless young people, the mentally ill and those with other special needs. Conerly said WHCHC hopes to engage the L.A. LGBT Center to help provide services to the tenants.
Dr. Love said that she and other residents object to plans to demolish the Detroit Bungalows. Love cited the charm of the units, which WHCHC acquired and renovated in 1989. She said the residents, who qualify for residency because of their low incomes, also like having their own outdoor space.
for what is called the "Blue Hibiscus" project. The City of West Hollywood recently made a loan of $1 million to that fund to enable WHCHC to With that $1.24 million purchase, expected to close in December, the Affordable Housing Trust Fund will be empty according to a report prepared by WHCHC.
But Conerly said WHCHC has been "struggling with the bungalows because it's a very old building… It was originally farm worker housing for thosee picking either oranges or avocados. They are small units, about 400 feet each," she said. Conerly said cost estimates for upgrading the existing bungalows received a few years ago ranged from $500,000 to $1 million, and still wouldn't bring the units into compliance with city codes.
Conerly said WHCHC is looking for additional financing for the project and hasn't made any firm plans as of yet. " Our biggest focus now is taking care of the people on the site now," she said. "There will be a generous benefits package (for those who might be forced to move because of construction), and I think they can all come back and live in the same building. Conerly said WHCHC representatives intend to meet with Detroit Bungalow residents and discuss their plans.