West Hollywood has launched a campaign to raise the awareness of local residents of the need to conserve water.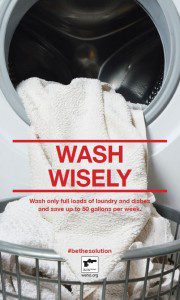 The "Prescription for Water Conservation" campaign is aimed at reminding people that small day-to-day decisions about water use, such as only washing full loads of laundry, make a difference in water conservation.
Despite recent wintery temperatures and rainstorms in Southern California, the state remains in a severe drought. In January 2014,
Gov. Jerry Brown declared a drought state of emergency and called on all Californians to voluntarily reduce water consumption by 20 percent. Throughout 2014, the city of West Hollywood intensified efforts to use less water and to promote conservation.
"The city of West Hollywood has a longstanding history of environmental advocacy," said Councilmember Abbe Land. "As a city, we are committed to ensuring that we do our part to reduce not only our water usage but also to educate individuals and businesses about how we have to make permanent changes rather than ones only during times of drought."
The "Prescription" campaign, which is funded by the city, features advertisements showing water-use situations that are stamped with a red text that suggest "doctor's orders." The designs catch attention because, at first glance, the messages appear to be public-health messages; in fact each message is aimed at tips to use less water. There are four distinct designs:
1) Practice Abstinence — "Avoid washing your driveway or sidewalk and save up to 150 gallons."
2) Seek Help Immediately — "Fix leaky faucets and save up to 140 gallons per week."
3) Use Protection — "Guard against waste with drain stoppers, shut-off nozzles, and water-efficient showerheads."
4) Wash Wisely — "Wash only full loads of laundry and dishes and save up to 50 gallons per week."
Advertising will appear in local print and digital community publications; on outdoor bus shelters and streetlight poles; on electronic billboards, and in social media. In addition, mailed inserts will bring these water-conservation messages to residential customers throughout the City of West Hollywood.
The threat of a severe water shortage is a serious one in West Hollywood, which depends on water piped in from sources outside the region. In 2014, the city made adjustments to its irrigation controllers to reduce water consumption by as much as 50 percent.
In late 2014, the city worked with the West Hollywood Chamber of Commerce and the West Basin Municipal Water District to provide restaurants and bars with table-tent cards reminding patrons that water is scarce and is to be served only upon request. According to the West Hollywood Municipal Code, no person is to be served water unless it is requested.
The California Department of Water Resources estimates that California would need much more rainfall to replenish its 12 major reservoirs and bring an end to the drought. Currently, the major state reservoirs stand at 54 percent of total average storage. The National Aeronautics and Space Administration (NASA) estimates California needs 11 trillion gallons of water to recover from the drought.
West Hollywood residents and businesses are served by two water utility companies: Beverly Hills Public Works and the Los Angeles Department of Water and Power (LADWP). Both utility companies are urging customers to cut back water usage and to consider installing water-conserving fixtures.
Water conservation tips and information about rebate programs are available at the following websites: www.bewaterwise.com; www.ladwp.com/waterconservation; www.beverlyhills.org/living/recyclingandconservation/waterconservation
www.westbasin.org
For more information, contact the City of West Hollywood Department of Public Works at (323) 848-6375.