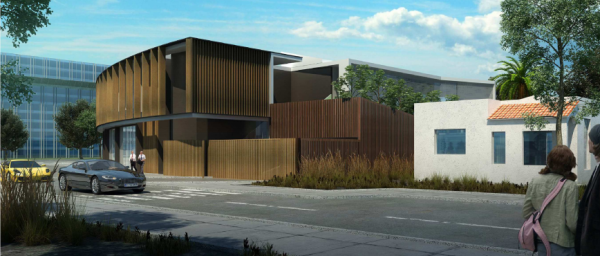 West Hollywood's Design Review Subcommittee largely praised revisions to the design of a new building proposed for 8650 Melrose Ave. on Thursday, but asked the developer and his architect to make further changes that would reduce its perceived mass and scale.
The building, on a lot at the corner of Melrose and Norwich Drive, a residential street, is being constructed by BMB Investments, which is controlled by Benjamin Soleimani. The city's Planning Commission initially approved a one-story building with almost 10,000 square feet of commercial space. But now BMB wants to expand the building to two stories with more than 18,000 square feet of shops, offices and a restaurant. Soleimani, who owns Mansour Modern, a rug retailer at 8606 Melrose and recently built the building on the corner of Melrose and Westmount Drive that houses Restoration Hardware, is a major Melrose property owner.
The changes recommended by the subcommittee are from a list of 11 developed by Stephanie Reich, the city's urban designer. They include such things as tapering down the building's height along Norwich to reduce its perceived scale from that residential area and adding color of different materials to the building's east wall which otherwise would look like a 30-foot tall blank space.
Reich's recommendations were supported by Richard Griesbert, president of the West Hollywood West Residents Association, which represents homeowners in the area. Other nearby residents largely expressed concern about the perceived mass of the building and the impact of traffic that would exit from an underground parking structure onto Norwich. The project plan estimates it will generate an additional 497 car trips a day.
Residents are concerned because Norwich is a one-way street, with traffic directed south from Melrose. The project's designers propose to direct drivers leaving the parking structure to turn left onto Norwich and then onto Melrose. Several residents have asked that the city build a cul-de-sac at the end of the street to ensure that those leaving the garage wouldn't be able to turn right and drive through the residential area.
The Subcommittee asked the developer to work with Reich to implement the changes. BMB must get the city's approval of the design in order to build a building of this size in the area. The revisions to the plan mean the project is not likely to come before the Planning Commission and then the City Council for final approval until late Spring at the earliest.